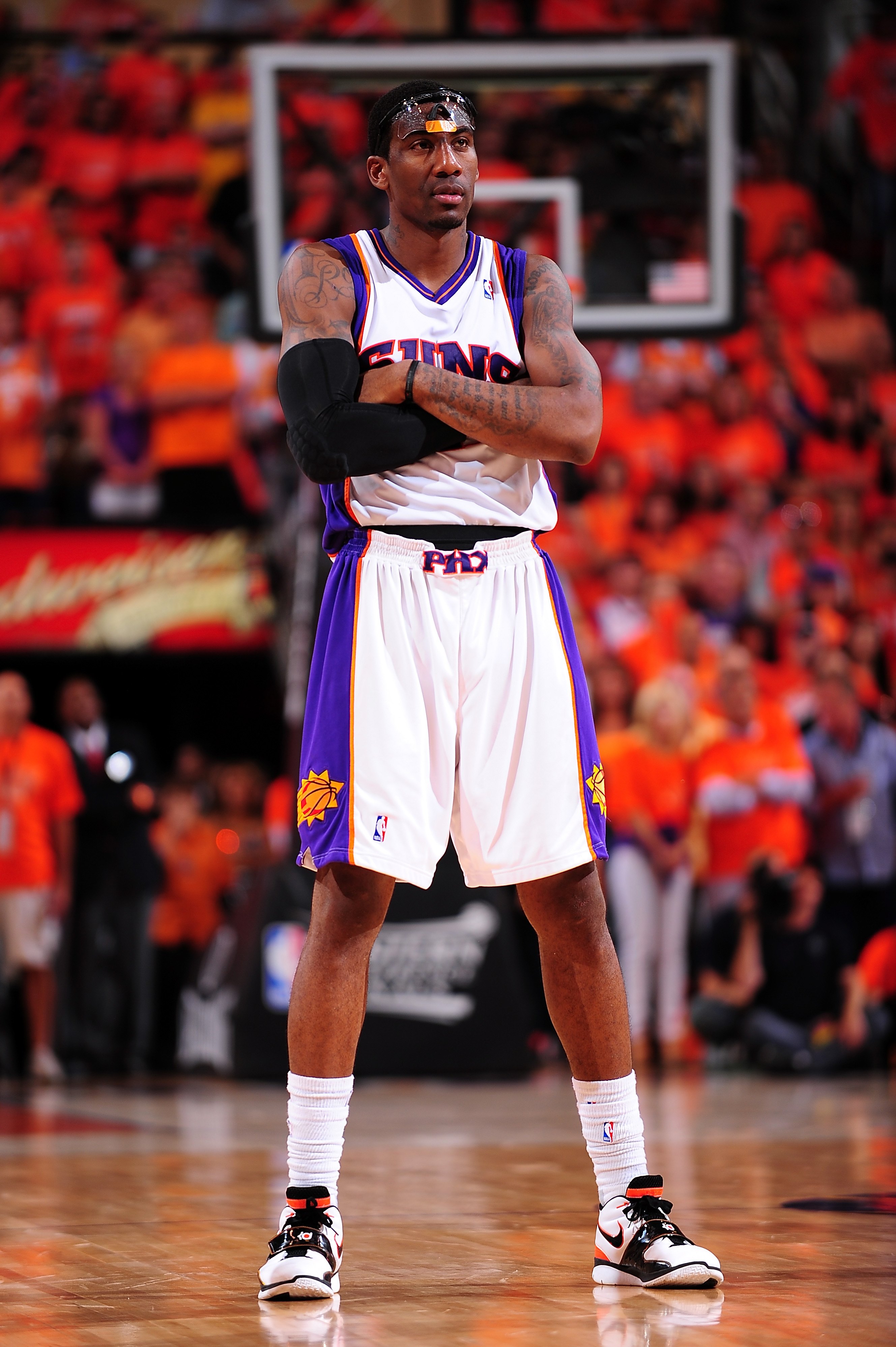 Posted by Royce Young
The new Collective Bargaining Agreement due to be negotiated next summer will likely have some significant changes.
And as Ken Berger writes
, the NBA might find some advantage in adopting a signing bonus or franchise tag type system that the NFL employs. What is a franchise tag you ask?
Basically it's a one-year contract at the maximum salary tagged on an unrestricted free agent that prevents him from negotiating with other teams. But there are two types in the NFL:
Exclusive: Player cannot negotiate with other teams and his salary is the greater of 1) 120% of previous year's salary or 2) average salary of the top 5 players playing the same position from the current year.
Non-exclusive:
Salary terms are the same except it's the average of the top 5 players from the previous year. Player can negotiate with other teams but current team reserves the right to match the offer. If it doesn't match the offer, it receives two first-round draft picks.
(It would work a little differently from the NFL because salaries don't vary between position in the NBA. There's often no difference between the value of a shooting guard and a center.)
So if the NBA adopted this type of rule, how would it have affected this summer's free agency apocalyse? Ken Berger points out how it could've forced LeBron to stay in Cleveland for (at least) one more year. So here are five teams that could've utilized a franchise tag to its benefit.
Phoenix Suns
This is the best example of how the franchise tag rule would've benefitted a team. The Suns are running out of time in the
Steve Nash
era. And with
Amar'e Stoudemire
's contract up, Phoenix had to make a tough decision. Instead of extended Stoudemire out, the Suns were only willing to offer a three-year deal. So New York came in and swooped Amar'e up.
Now if Phoenix could've slapped that tag on Stoudemire, the Suns would've bought at least one more year with him. They'd get at least one more year of Nash teaming with him and maybe one last hurrah at making a deep Western Conference run. Instead, the Suns weren't willing to go long-term on Stoudemire because of injury concerns and therefore he walked.
Memphis Grizzlies
Most agree,
Rudy Gay
was overpaid. Heck, even Rudy Gay agrees Rudy Gay was overpaid. But the Grizzlies were in a tight spot. If they didn't offer up max money for their 23-year-old star, someone else would. So Memphis tried to nip any other offers and lock up their man for multiple years. Did they jump the gun early? Probably. Gay
might
be a max player, but that's probably ot be determined. But their hand was forced.
So if Gay gets tagged a franchise player, he gets one year of max money, plus a chance to prove he's worth that. Memphis buys itself another year to figure out who to open its wallet to and potentially stops itself from overreacting based on what it thought the market would do.
Atlanta Hawks
The Hawks were in a similar situation to Memphis. They wanted to keep their star, but were they really ready to dump that kind of money on
Joe Johnson
. He flopped in the postseason and really had the look of a second banana rather than an alpha dog. Had Atlanta tagged Johnson with the franchise label, he gets another year to figure out if that's where he wants to be.
Plus Atlanta gets an idea if he's the player it needs. The Hawks didn't want to lose him while they have a competitive talented roster. But in four years, they may be really regretting the contract.
Toronto Raptors
The Raptors are probably the first team that comes to most folks mind other than LeBron. But that would've been interesting. Bosh had soured on staying in Toronto. He wanted to go somewhere where the lights are bright. So had Toronto locked down Bosh to try and buy itself one more season to sell its plan and coax a good season out if it, it may not have ended well in the first place.
That's the drawback of the tag. In some cases, players
want
to leave. Bosh wanted to leave. Preventing him for that might've just made him mad and he likely would've demanded a trade.
San Antonio Spurs
Everyone was a little stunned when
Richard Jefferson
opted out of a deal in which he was owed $15 million for the next season. But he had a reason: He wanted a long-term contract. And while it worked out fine for the Spurs in the end, had they been able franchise Jefferson, they could've prevented giving him multiple years.
Jefferson was disappointing last season. He underpeformed in basically every category. Everyone knows he can play, but some worried if maybe he was washing up. San Antonio likely preferred not to give Jefferson four or five years, especially for a guy it can't be certain will return to form. If there were some sort of non-exclusive rule where Jefferson is paid no the max money but based on relative compensation, the Spurs could've franchised Jefferson, and let him earn a long-term deal this season. I don't think they would've picked that route of the one they got, but at least it would've been an option.
As you can tell, a franchise tag benefits the team and the owners moreso than the players. In a situation like Toronto, you'd have a lame duck season from
Chris Bosh
would be asking for a way out. It's a solution the NBA probably would never adopt in the exact same format as the NFL, but in some way, the league wants to keep players with their original teams. If anything else, this is an exercise in the "what if?" world of things.