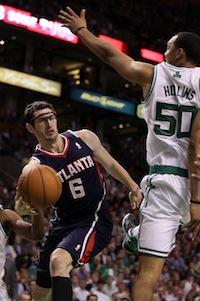 Posted by Matt Moore
When
Kirk Hinrich
was traded to Washington, there was this loud noise across the country. It was NBA fans and personnel across the land scratching their heads, trying to figure out how in the world Kirk Hinrich fits in with the Washington
Wizards
. The questions were about everything from chemistry to overall scheme to coaching approach. But the biggest questions were about what position he would play.
Hinrich will come off the bench, since
John Wall
was starter-ready yesterday, and he's the future of the franchise.
Gilbert Arenas
will start, because, well, he scores a lot of points and Wizards fans still have a soft spot in their heart for him, despite his injuries, inefficiency, and something-something-guns. So Hinrich is coming off the bench. But at what position?
Wizards blog
Truth About It dove into
the issue and came up with some interesting conclusions:
Remember, Hinrich said that he feels more comfortable playing PG, but feels "very capable" playing SG. The numbers support his opinion. Hinrich is a slightly better PG than shooting guard, but the difference in productivity between the two positions is negligible. Hinrich's (ordinary) statistics are encouraging. Yep. At this point in time, Hinrich's role on the team is unknown, but he gives the Wizards plenty of flexibility in their offensive sets and in creating lineups, for example: Wall-Hinrich, Hinrich-Wall, Arenas-Hinrich, Hinrich-Arenas.
Hinrich's game makes him capable of playing shooting guard, but his mindset, his natural abilities, are much bettter suited for the point guard position. He's not a pure point, more accurately described
as by Tom Ziller
as a pass-first combo guard. In Washington, it's possible those pass-first tendencies might present themselves more forcefully, with mid-range scoring option
Andray Blatche
and Gilbert Arenas never one to turn down a field goal attempt. A Wall-Hinrich back court puts the onus of perimeter scoring on Hinrich, a weight that, for whatever reason, has become too burdensome for Hinrich in recent years.
Paired with Arenas, Hinrich could actually play the shooting guard to a certain degree better most-likely, acting as the facillitating swing on the perimeter to Arenas' ball-handling scorer role.
It's not a perfect fit, but from the research TAI did, we see that there is potential for Hinrich to fit in with the Wizards. Just don't offer up any card games on flights, Kirk.