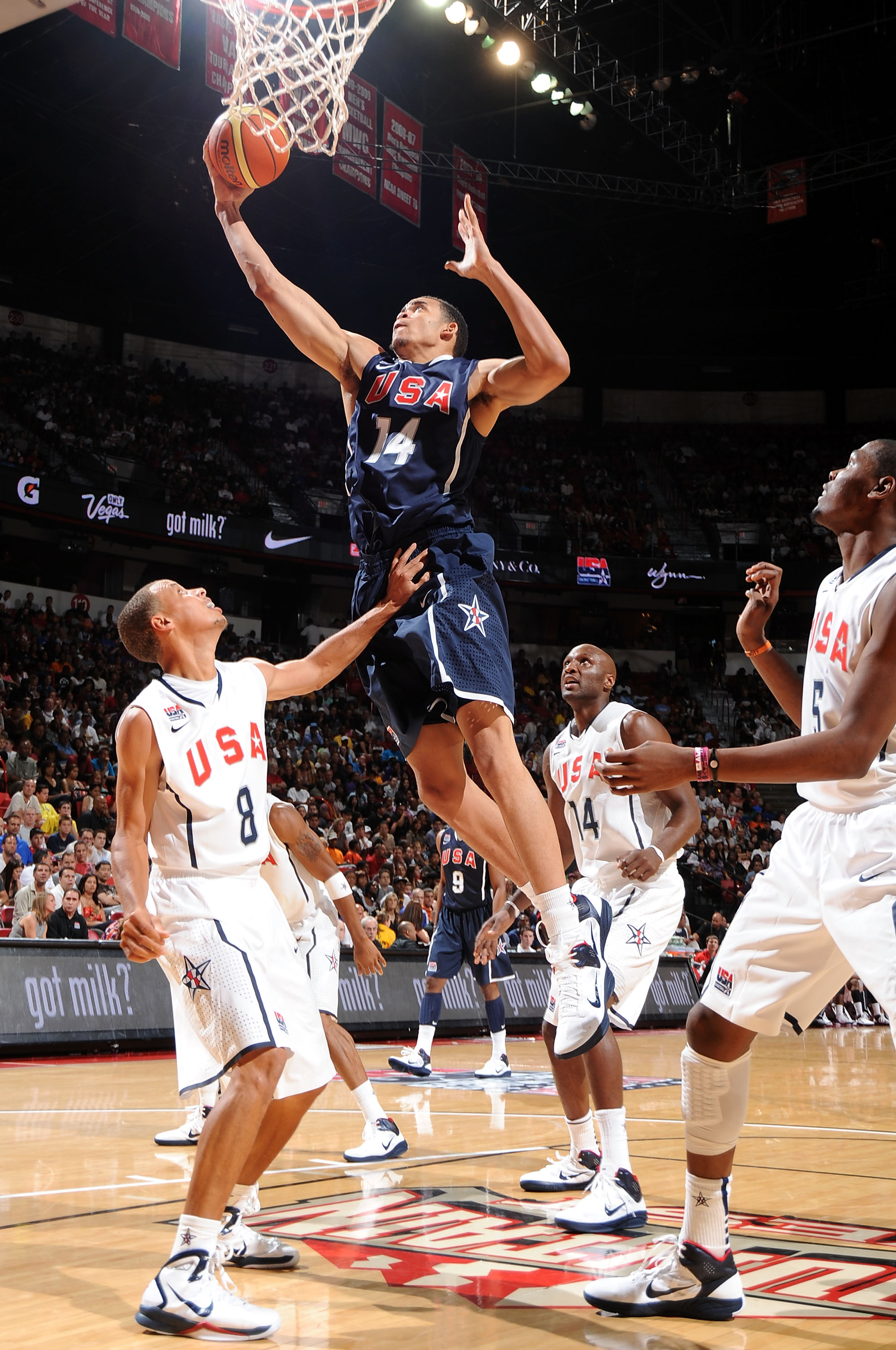 Posted by Royce Young
About 30 feet. (Or rather, 9.14 meters since the games are in Europe.) That's about how much size has either gotten hurt or has been forced to drop out of the World Championships for Team USA. The latest? Seven-footer
Brook Lopez
will not participate because he hasn't fully recovered from mono.
After Jerry Colangelo announced the 15-man roster that would go to training camp Aug. 10-16, everyone noticed one thing: There are only two centers on this squad. Well, make that one now.
However, shortly after Lopez officially bowed out, promising youngster
JaVale McGee
was added to the roster. Now McGee is raw and there's no guarantee he'll be on the final 12-man that heads to Turkey. But chances are looking pretty good for the Wizard big man. That's mainly due to process of elimination or just survival of the fittest, but regardless, it's McGee's time to step up.
Assuming Team USA keeps McGee to go along with
Tyson Chandler
, how does this affect them? Well, a lot actually. No matter what, it's hard to see McGee being a key cog in the Team USA rotation. He's young, doesn't have any international experience and was really only brought into camp originally to serve as a training buddy for the other big men. We knew players like
Kevin Durant
and
Rudy Gay
were going to interchange between positions, but now it's a question of how much. Could Durant see 10 minutes a game at center? Fifteen? Twenty? If that happens, is does
Danny Granger
make the squad to fill in time at small forward? Lopez's situation has set off a bit of a chain reaction on the roster, and it won't be easy to solve.
So is McGee now a lock though? Hardly. Yes, it makes sense to bring him because having only one center would seem odd, especially when foul trouble is easy to get into going against the likes of
Marc Gasol
of Spain and Sofoklis S
chortsanitis
or Greece. But at the same time, if a tweener like
Jeff Green
impresses in New York, Colangelo and Coach K may prefer to just play small at times and have that versatility and flexibility.
More than likely if McGee makes the final roster, he'll be there as an insurance policy for Chandler. You don't want to waste a roster spot on a guy that's there just to wear warmups. Especially when that means a talented player will have to be left home. Then again, that extra player - if it's anyone other than Green - will likely be stuck behind multiple players anyway. So really, what are you losing by taking McGee over say,
Eric Gordon
, who might be behind five other guys anyway?
But let's not sell McGee short here. He looked fairly fantastic in Vegas during summer league and had moments during the scrimmage a few weeks ago. There's good reason to think he could serve a purpose and honestly, might even find a little floor time. This USA team is going to run. And McGee is ideal in transition.
Training camp in New York just got a little more interesting and the cuts for Coach K and Colangelo just got tougher. Do you completely buy into the small ball approach and take a better player? Or bring McGee and have two centers? Whatever the case, Team USA was dealt another blow Wednesday and its trip to Turkey just became a whole heck of a lot tougher.