Posted by Matt Moore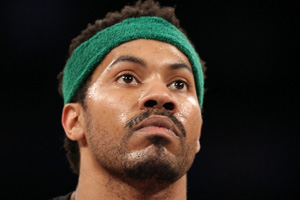 There was talk immediately following the Finals that
Rasheed Wallace
was considering hanging up the kicks and headband. Despite
Shaquille O'Neal
making a plea over the weekend for Sheed to come back for one more rodeo,
his agent told the Boston Globe today
that Wallace intends to retire.
Sheed walks away at age 35, after 15 seasons in the NBA, an NBA championship, and 14 NBA playoff appearances. For all the talk about Sheed's laziness and lack of focus and drive, along with his unpredictable behavior, Sheed visited the postseason every season since his sophomore year in the league. That ain't a bad run for a guy.
He'll also walk away with the record for most technicals in a single season and a leader in all-time techs. He gave us "Ball don't lie" and showed that a player considered out-of-control could harness his play while keeping his attitude and win a championship. The best news from all this is that as he matured, Sheed started to discover there were things beyond basketball, like family, that were important. We may miss Rasheed Wallace. I doubt he'll miss us.
Expect the
Celtics
to attempt to buy-out or trade the remainder of Sheed's contract.