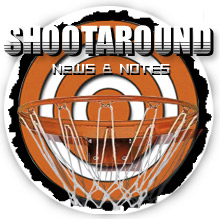 Posted by Royce Young
An extremely smart look at Tim Duncan v. Karl Malone in the greatest power forward of all-time discussion: "When you look at Karl Malone's stats compared to Tim Duncan it is hard to make the case that Duncan is a better player that Malone. Why? Because it is hard to make the case that many players are better than Karl Malone by looking at the stats. He is 2nd all time in career points and 3rd all time in win shares (an estimate of the number of wins contributed by a player) with more win shares than everyone but Kareem and Wilt. Tim Duncan would need 6 more years of his average production to equal Malone. As it currently stands he is still isn't within shouting distance of the Mailman. However, any Duncan supporter might bring up the fact that of course Malone's career numbers would be better because he played 19 seasons."
JaVale McGee makes a common statement: "Reporters who never played the game of basketball or never succeeded in it… Shouldn't b able to report on it #FACT"
Scott Carefoot for The Basketball Jones on why you shouldn't sleep on Blake Griffin: "He's not just a great dunker, of course, or else he wouldn't have been the first overall pick. He's also a highly productive rebounder, he's a very good ballhandler for his size, and everybody who knows him claims he has a great attitude and work ethic. Plus, he's had a full season to study the pro game from the sidelines so he should be prepared for the speed and flow of the NBA when he returns to the court."
Sam Amick of Fanhouse talked with Ron Artest: "I'm always hungry. That's the good thing about me. Every year I'm hungry. That's the good thing about me is I don't have to get any more motivated. There's nothing anybody can do to motivate me. I'm already there 100 percent. ... That's the good thing about being me. I'm going to work hard every day." Hey, what's the good thing about him?
Big Baby Davis says he's ready to grow up and change: "This is the year of finally hitting that line of maturity, of finally becoming that player that I knew I could be." Throughout my career, my three years being here, it's been up and down. When I play, you've seen glimpses, like, 'Wow, this guy could start. Or come off the bench.' Glimpses up and down. But this is the year of Glen becoming that whole player that 10 years down the road, eight years down the road, will hopefully be an All-Star."