Posted by Royce Young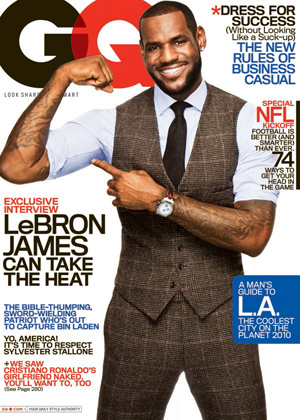 Since "The Decision" really all we've heard or seen from LeBron is him being heckled or booed at an appearance. He didn't speak during the Nike World Basketball Festival and for the most part, has just kept a low profile.

Finally, we have some fodder. J.R. Moehringer of GQ had the opportunity to spend three weeks with LeBron in the lead-up to the decision and also spoke to James about a number of different things.

In the interview that drops in full Aug. 24, LeBron actually says he could see himself returning to Cleveland one day as well.
"If there was an opportunity for me to return," he says, "and those fans welcome me back, that'd be a great story." But then again, he also talks about how as a kid, he
hated
Cleveland, italics used for added emphasis on hated.
A few of the other highlights:


LeBron on how those close to him view his decision: "They're happy to see me happy. That's what they can see in my face. They say: 'It's been a while since we've seen you look like that.'"

On Cavaliers owner Dan Gilbert: "I don't think he ever cared about LeBron. My mother always told me: 'You will see the light of people when they hit adversity. You'll get a good sense of their character.' Me and my family have seen the character of that man."


On how a kid could from Akron, located only thirty minutes from Cleveland, could grow up rooting for Chicago and Jordan:
"It's not far, but it is far. And Clevelanders, because they were the bigger-city kids when we were growing up, looked down on us.… So we didn't actually
like
Cleveland. We
hated
Cleveland growing up. There's a lot of people in Cleveland we still hate to this day."


On how growing up helped him learn about facing adversity and staying humble: "That's what keeps me humble, because I know my background, know what my mother went through. I never get too high on my stardom or what I can do. My mom always says, and my friends say, 'You're just a very low-maintenance guy.'"

Moehringer also describes in detail what it was like hanging with LeBron's crew. One of the more interesting points is how LeBron is surrounded at all times. Whether it be with friends, managers, agents or family, LeBron doesn't spend a lot of time by himself.
Moehringer writes: "But as with anything, all that comfort comes at a cost, and I think that his fear of being alone keeps him at times from walking through the fire that we all have to walk through. Maybe sitting alone in a room and thinking might have helped him realize that an hour-long special devoted to his decision was ill advised. My suspicion from watching him surrounded by people wherever he goes is that he's not spending a lot of time alone in a room thinking through things."
There's also something in the article talking about how James is potentially trying to re-create his high school experience, something he calls his favorite time of his life, by going and playing with friends in Miami. It's interesting because James spurned his local predominantly African-American high school but instead enrolled at predominantly white St. Vincent-St. Mary to play with friends and build a superteam. He was called a traitor, a cop-out and pretty much all the things he's being called now. And as Moehringer points out, in LeBron's memoir, the chapter talking about his choice to play at the catholic prep school is entitled "The Decision."
I remember Brian Windhorst, who covered LeBron even in high school,
tweeting in the build-up to the one-hour announcement special
that this new media savvy, image conscious LeBron was not someone he knew. LeBron refers to himself in the third-person constantly, talks about hating Cleveland his entire life and is so enveloped in his own happiness that he surrounds himself with people that only tell him how happy he is. That doesn't sound a whole lot like the guy that was all about winning and teammates a few years ago with the Cavs.
But honestly, after this inside look, maybe LeBron never changed. Maybe he's the exact same guy he's always been.