As Ken Berger reports on the latest developments in Carmelo Anthony's exit strategy, a familiar pattern is forming, one that we saw played out over the past year in Cleveland.
Posted by Matt Moore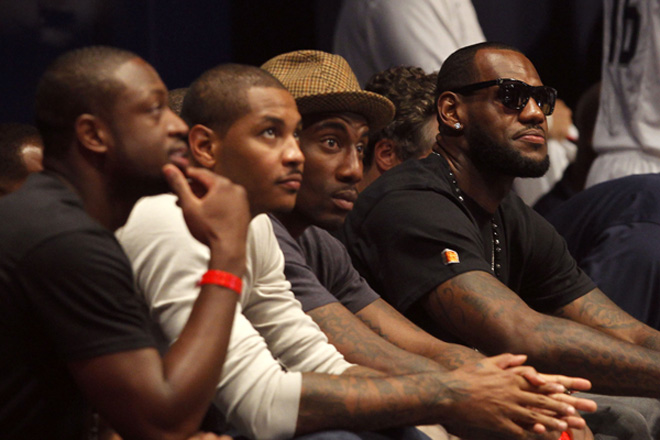 CBSSports.com's
Ken Berger brought news last week
that Carmelo Anthony was angling for a move to New York, that the situation was (according to a close source to him), "perfect for him." Now
ESPN's Ric Bucher has echoed
that report, stating that Carmelo
is "likely" to go
, and that it is a question of when, not if, Anthony will depart the
Nuggets
. Denver fans
are holding themselves to the same mantra
we heard from
Raptors
fans last summer and Cleveland fans as recently as June, that no reports can be trusted and that their star player can't find a better situation than the one he's in now.
But the
situation is gaining steam
, not dying down. The
Denver Post reports today
that the Nuggets are starting to evaluate options in parting ways with Melo and getting some level of return. And it would appear those avenues are starting to open and become more varied as well.
Today KB reports the following to the F&R Blog via email in the evolving Melo-camp discussions:
Anthony's hesitation to sign a three-year, $65 million extension with the Nuggets goes beyond his desire to enjoy the major-market exposure and pressure that LeBron James and Dwyane Wade turned down this summer. Melo would accept other destinations as well, and the Magic are believed to be at the top of his list along with the Knicks, according to a person familiar with his strategy.

The exit strategy began taking shape last week, while Anthony was in New York for Nike's World Basketball Festival. It was then, according to the source, that Nuggets management was advised to begin exploring trade possibilities for Anthony to avoid losing him as a free agent and getting nothing in return. When Denver fills its vacant GM position, the likely choice, former Suns executive David Griffin, will inherit a crisis similar to the one he endured with Amar'e Stoudemire, who left the Suns for a five-year, $99.9 million deal with the Knicks.
The short-and-long? Melo wants out of Denver, and onto a title contender, and wants it now. Not in free agency. Now. And any questions as to whether that's the case don't need to be answered by off-record sources. The evidence and a little deductive logic speaks for itself.
The most prominent response from skeptics as to if this is really Melo's desire is "Why hasn't he just said so?" And the answer is pretty simple. He already has. Just because he hasn't publicly demanded a trade, costing himself fine money and damaging his image, doesn't mean the evidence isn't right there. There's a three-year, $65 million offer from the Nuggets just waiting for him to sign it. The lack of Carmelo's signature on the dotted line isn't in and of itself a declaration that the Nuggets are off the table. But if they were what he wanted, why not just sign it? The money's there. He's been there, has friends there. It's hard to believe the Nuggets are actually holding out in offering Anthony something he wants. Whatever he's looking for, they'll oblige.
So what's he waiting for?
It's the same question I asked myself last year as Cleveland fans repeatedly told me that James had no interest in leaving. That he loved Cleveland and there was no way he would depart, would abandon them. I always walked away from these exchanges with the same question.
"Okay, then, so why hasn't he? What's he waiting for?"
A simple public statement "I look forward to finishing my career in Cleveland." Or, "We'll sit down with Dan Gilbert and Danny Ferry and get to work on the deal . It may take some time, but it'll get done." He could have still entered free agency to maintain leverage to make sure he wasn't short-changed in any regard (who's going to short-change LeBron James?). All he had to do was make those kinds of public commitments and the media wouldn't have embarked on the 100-ring circus we set up. Don't put the goat in the exhibit and expect the T-Rex will stay out of sight.
And just as James never provided those kinds of assurances, always dancing around the subject, saying "We're going to go through the process" and "I love the fans in Cleveland," Anthony's embarked upon the same careful footwork. "There is no timeline" is the new "Cleveland has the edge." And the parallels don't stop there. The
Cavaliers
panicked when it looked like James was unhappy with Cavs management over their ability to build a roster around him, and fired head coach Mike Brown and came to a separation with Danny Ferry. Sound familiar?
Denver dropped
both Mark Warkentian and Rex Chapman, both of whom were held in high regard in NBA circles.
Oh, and who is Anthony's agent again?
Oh, that's right. Leon Rose. LeBron's agent and representative for CAA, which also employs William Wesley. If we were in the Matrix, the cat would have walked by twice by now and asked for the Nuggets to fly to New York to pitch Anthony using PowerPoint.
I'm not the first to say there's smoke in regards to this here fire. Chris Dempsey of the Denver Post
laid out the remaining circumstantial evidence
, including Anthony's sale of a Colorado estate and his East Coast upbringing (though Anthony was raised in Baltimore, he was born in New York; you're going to be hearing that fact about seven hundred zillion more times in the foreseeable future). But there's one more factor that seems to tie this whole mess of speculation and prediction together.
The discussion has been hard and heavy that Anthony's torn between the allure of a new team in free agency and wanting the financial security provided under this (presumably more player-favorable) CBA agreement. The idea was simple. Anthony wants the money, first and foremost, and for that he needs to stay in Denver. But that's only if he enters free agency. If Anthony were to be traded to a new team, that team could then extend him under the current CBA. And that feeds into the last connection between Anthony and the Miami Triad. The allure of getting everything you want, how you want it. With a trade, Anthony can find himself in a new location in title contention, and get the extension he wants. It's the best of all worlds.
The age of players having to simply accept their respective situations may be ending. If Carmelo Anthony can find a way to escape to a major market, joining a top team to contend and get the financial security of the current CBA, we'll have seen the latest manifest of the players' power in the modern NBA.
It's Denver's move. And how the next six months play out could speak volumes as to the fate of their franchise. It will also reaffirm the impact of what went on this summer in free agency, and how the landscape has changed.
Follow NBA Facts and Rumors on Twitter, @CBSSportsNBA