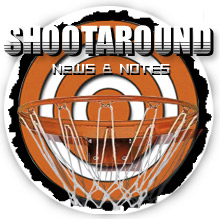 Pierce wants help, Wall won't get that many buckets, and the Suns have the pick but no roll in today's edition of the shootaround. Posted by Matt Moore
Paul Pierce
says the
Celtics
need one more piece
, specifically a wing to come in and relieve him. He doesn't sound thrilled with the team losing
Tony Allen
, specifically. How they'll fill that hole is an entirely different question, if at all. Allen played a pretty specific role (and honestly didn't play it all that well prior to the second half of last season). Furthermore, Pierce's statement serves as a significant knock agasint
Marquis Daniels
, who's supposed to particularly be just that for that for the Celtics.
The
Warriors
,
Hornets
, and
Pacers
are
in pursuit
of Lou Amundson, the Phoenix big man who found the team didn't have room for him after their replacement moves this summer. The Warriors are the easy option, a nice market and a fun way to play. But it also provides the least chance to win. The Pacers are likely to be a fun team, full of speed and versatility (much like the Suns last season), but it's not clear if Amundson (28) wants to be the veteran presence on a team. That leaves the Hornets, who will play a much slower pace than he's used to most likely. The fact is that the best situation for Amundson was Phoenix, who really did need him. But hey, when
Hakim Warrick
comes available...
John Wall
is a near-lock to lead all rookies in assists next year. But how's his scoring going to be?
Bullets Forever takes a look
at the issue and finds that Wall's top three options are heavy-usage players that don't necessarily score a lot off of assists. So not only will Wall's scoring be lower than expected, but similarly his point totals may not wow the eye either. There's a solution, here, ditching
Gilbert Arenas
for cheap fluff, but no one wants to hear that option in Washington (or they believe that no one will take Arenas period).
A perfect example of what advanced metrics can do? A block is a block right? Except
some blocks have more value than others
, and the number of blocks you make impact the overall value of all of your blocks. So a block is not just a block.
Kendrick Perkins
is
targeting February for a return
. Which is awkward, because that means if the Celtics find themselves surprised by a lack of center depth (despite
Jermaine O'Neal
and
Shaquille O'Neal
), they're not going to have much time to make that assessment if they need to make a trade.
The NCAA president wants to see baseball-like rules for the NBA's draft guidelines. This would mean players can go to the NBA straight out of high school, but if they elect to go to college, they must stay for three years or until they're 21. An interesting idea, but
as John Krolik points out
, one fraught with complications. An additional question is where the NBA D-League would play in this process, and if it would help bridge the gap. Either way, it's unlikely for this option to be adopted, given the economic realities.
Jerry Buss isn't
lacking for confidence
when it comes to the
Lakers
' chances against the
Heat
. The list of people actually admitting fear or even legitimate respect for the Heat is pretty small, for some reason.
The pick-and-roll has been the cornerstone of the Suns' offense for years. And
yet looking at their options
, the Suns may be looking at a lot more pick-and-pops than rolls.
Robin Lopez
may be their only hope.