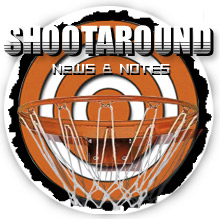 Posted by Royce Young
The Hornets are embracing variable ticket pricing: "Yet-to-be-determined prices will be assigned to games based on value and demand, influenced by factors such as an opponent's quality and the day of the week the game is played. Each game will fall into one of five pricing categories: marquee, premium, classic, value and preseason."
Rob Mahoney of Hardwood Paroxysm on who takes the last shot in Miami: "In almost every regard, the Miami Heat will not be like other basketball teams. So why should they be when it comes to their play-calling with the game on the line? Erik Spoelstra has all of these incredible scoring options laid out for him. No coach in recent memory has been more empowered to go away from the "Get X the ball and get out of the way," endgame mantra. If there's really a place where Spoelstra's talents can stand out amidst the incredible star power on Miami's roster, it's there."
Terrico White should've been in the dunk contest last year. So what that he was still in college.
Dime looks at the five worst trades ever: "Date: September 9, 1980; Warriors Get: Two 1980 1st-round draft picks (Rickey Brown and Joe Barry Carroll); Celtics Get: Robert Parish and a 1980 1st-round draft pick (Kevin McHale). This is like something out of a video game. The Celtics should have got fined for armed robbery. How do you steal two NBA legends for nothing?"
Usain Bolt sees Kevin Durant as a role model: "When I was younger mine were Michael Johnson and Don Quarrie. Johnson was pretty much the best runner in the world, particularly at the 200m - my favourite event - and Quarrie was one of the best Jamaican sprinters in history, so I just wanted to be like them. I still have people I look up to even now. At the moment it's Kevin Durant, the basketball player (he plays for the Oklahoma City Thunder). Kevin is a good leader; he's very strong and very determined. Whatever he does, whether he's tired or injured, he works through it, pushes on and challenges his team-mates to do their best."
The Grizzlies and rookie Xavier Henry are in a stalement with his contract over performance based incentives. And owner Michael Heisley had in interesting quote on it: "Isn't it reasonable to think that the 12th pick in the NBA draft can make the rookie team?" Heisley asked. "I think what we're asking for is reasonable." I guess that would depend on what one sees as reasonable, would it?
Kenyon Martin tells The Denver Post he understands Carmelo's situation and even says the Nuggets are going backward:

"I understand what he's going through," Martin said in a phone interview. "If I'm Melo, I'm thinking — are we getting better? They've got to prove to me that we're getting better... Everybody else around us got better. But we're taking steps backwards."