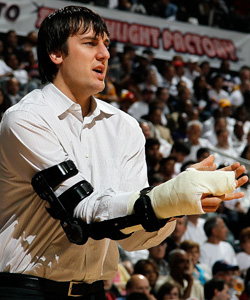 Bucks' star having trouble in recovery from elbow injury, may miss season opener.
Posted by Matt Moore

Andrew Bogut
suffered a seriously gruesome elbow injury in a fall last season which ended his year and the Bucks' chances of going deep into the playoffs. He required multiple surgeries, but worked hard to recover and all indications were that he would be back with plenty of time to spare before the start of the season.
You can sense the "but" here, can't you?
Real GM's board of internet scour experts brings
us a transcript of Bogut's television appearance
in his native land of Australia. The interview,
available here
(but not in the US), tells us that Bogut was shooting while in Europe, but had fluid build up in his elbow and so had to go back to conditioning and weight training only. More concerning is this quote:
"I'm optimistic that I should be ready for the season but you never know with these things because of the nerve damage and so on, it's on its own course.

"[It's my decision] I'm one of those guys who will play through injury but if I'm not 100% for the season to start, there is no sense going into an NBA season at 85% 'cause we're playing up to May."
Yikes. Losing Bogut for even a month could put the Bucks in a hole to start the season. The good news is that they did bolster their frontcourt with
Drew Gooden
and
Larry Sanders
, who might be able to at least function with
Brandon Jennings
and
Corey Maggette
handling the scoring load until Bogut returns.
It was a severe injury that Bogut underwent, so this isn't entirely expected. It still has to be frustrating for both Bogut, and Bucks fans, who have seen the versatile center limited in multiple seasons due to injury. When healthy, he's one of the top big men in the league (and a defensive player of the year candidate). But he's got to be able to get on the floor first. For all the strides Milwaukee has made, recurring injury problems for Bogut is just the kind of thing that can submarine a season before it has a chance to get going.
The clock's ticking.
(HT:
Brewhoop on Twitter
)