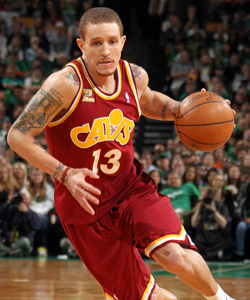 Former Cavs guard suspended 10 games for weapons charges.
Posted by Matt Moore
Delonte West was
arrested on weapons charges
nearly one year ago. He was pulled over and found to be in possession of multiple concealed handguns and a shotgun in a guitar case he had with him. This summer,
he pled guilty to those charges
and was expected to receive a 3-6 game suspension. It would appear the league has elected to come down even harder, despite West's plea deal.
The league today suspended West for 10 games in the 2010-2011 season. As a free agent, if West were to sign, his suspension would start with the first game he was physically able and eligible to play. So if a team picks him up on November 1, his suspension will start with the team's game that night.
It's a development that makes the odds of West being able to get on with a new team even tougher. Leaving a difficult situation in Cleveland in a trade to the Wolves, he was waived for cap considerations, and is now trying to find a new place to land. But a GM will have to overlook now not just the limitations of his game and the locker room distractions, but now a ten game suspension that any team will have to swallow if they sign him.
West has had a difficult run of things, mainly due to decisions of his own making, but partly on account of a neurological condition. It's going to take a GM that is willing to take a considerable chance in order for West to get his career, and potentially his life, back on track.