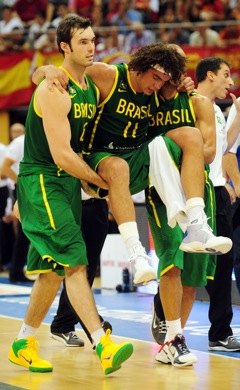 Posted by Royce Young
If you ask Sam
Presti
what he thinks of three of his
Thunder
players competing in the World Championships, he'd give you the scripted answer. He'd say how he's excited about the opportunity for them, how he's encouraged them to play hard there and how he thinks the competition will only make them better.
Actually, Presti pretty much already said exactly that. "We know that, more than likely, our guys are going to be playing somewhere during the summer, whether it's in a gym in L.A. or D.C. or wherever it is,"
Presti

said in an interview with thunder.

nba

.com.
"But given the opportunity to compete against the best players in the NBA in a structured environment is really a great development opportunity for the guys as a whole and it's certainly better than any pick-up game they can find elsewhere."
But I'm guessing if you could
really
ask him and get a candid answer, he'd probably say he's a bit terrified. Excited for them no doubt, but certainly nervous. And you can bank that he's definitely not the only one.
With injuries piling up for NBA stars that are competing this summer internationally, the fear for coaches,
GMs
and fans rises as well. So far we've seen a sprained ankle for
Stephen Curry
, a dislocated finger for
Danny Granger
, an ankle injury to Anderson
Varejao
, plus there are potential for incidents like we saw yesterday with
Nenad
Krstic
. Plus, the worst yet, a broken foot for Rodrigue Beaubois. Any time players compete, the chance for injury or issue is there.
Take the Dallas
Mavericks
for example. Other than Beaubois' injury, the Mavs have reason to squirm a bit.
Tyson Chandler
was one of the
Mavs
biggest moves of the
offseason
. And with the rash of problems with Team
USA's
big men, Chandler is the only center on the roster. That means if coach Mike
Krzyzewski
wants to have an actual center on the floor, Chandler would have to go the distance. That sound you just heard was Mark Cuban throwing up.
Chandler is a player that can barely go to his mailbox and grab his mail without getting hurt. And between practices, exhibition games and then actual games in Turkey, Chandler might pile up half a season of work before the season even starts. Plus, add in the fact that other teams know Chandler is the only big man on Team
USA's
roster, the fact other countries tend to play a little rougher against Team USA and the fact that international play can tend to get a little nasty, and you've got three strikes to be concerned about. And that's just with Tyson Chandler.
But what are teams supposed to do? Tell their guys they can't play? Of course they have to protect their investments and the best interests of their respective organizations, but you can't stop a player from playing for his country. This isn't North Korea. But at the same time, you can bet Cuban has Coach K on speed dial and has probably offered his opinion once or twice on Chandler's contributions.
There are lots of NBA players playing in the World Championships this year, as is the case now in international basketball. But for the most part, it doesn't matter if they're playing in Turkey or not, basketball players are prone to playing basketball. Whether that be on the blacktop or on the hardwood, injury risks are there all
offseason
. But it's not just the injury but the fatigue of playing a couple hundred extra minutes. Players might be worn down heading into training camp, a time they're supposed to be at their freshest. Oklahoma City coach Scott Brooks senses that concern.
"Well they're definitely going to need some time to just decompress and relax because it's going to be a very high-intensity tournament,They're going to play basketball all year long. Kevin, I wanted him to take a couple of weeks off and he took two days off," Brooks said in an interview with an
OKC
radio station. "There's going to be a little bit of time where I'll say 'OK, you guys gotta rest,' and maybe I can rest them a few days during that month of October, but it's going to be like pulling teeth to get those guys to sit out of things."
Kobe Bryant
talked about the kind of wear and tear he felt after playing 82 games, then another 30 or so in the postseason and then another 15 in the 2008 Olympics. He only got about a month off to recover before he was revving back up for the 2008-09 season. Players like
Rajon Rondo
and
Lamar Odom
went deep into the postseason and are experiencing that long summer. Will it effect them during a back-to-back next February? Eh, hard to say. In fact, probably not. These guys are world-class athletes in world-class shape. But mentally it can tax on a player and the perception can be that all those games have caused someone to lose a step.
The ultimate fear is what happened to Beaubois. A serious injury that could potentially have an effect on the upcoming season. I'm sure Mark Cuban had a moment of "Why in the heck is he playing in this dumb thing?" But then again,
Darren Collison
was injured playing pickup ball. Making it through the summer unscathed is something GMs and coaches cross their fingers for, but international competition or not, risk for injury is there. But in the case of this summer, the Worlds just present more opportunity than usual.
Playing for country is almost a duty to some of these players. It seems like lip service when people like
Kevin Durant
say it's a dream and the ultimate pinnacle in basketball is having a gold medal placed around your neck while your anthem blares. But to these guys, it's means something. That doesn't mean there not risks involved and that front offices and
fanbases
can't be fretful. But if you want your players to get better and satisfy their ambitions to wear their country's colors, you've just to cross your fingers, say a little prayer and hope come October, everything is the way it should be.