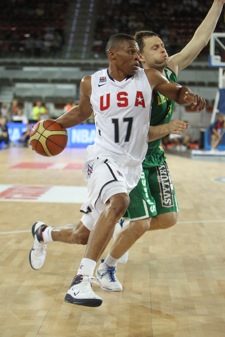 Posted by Royce Young
It may have just been an exhibition, but Team USA was pushed Saturday against Lithuania for three quarters, before pulling away to a 77-61 in Madrid. The reasons for the closer-than-expected game? Sloppy passing, bad offense and more bad offense.
What kept the U.S. from being blown out in the first 20 minutes was a strong defensive effort that held Lithuania to just 28 first half points. The problem though, was that the Americans only had 29. A lot of the issues could be summed up in a wide open fast break dunk blown by
Rudy Gay
. The U.S. was careless with the ball, missed open jumpers and didn't finish the easy inside looks.
The guy that is supposed to be reliable on the offensive end continued to struggle a bit.
Kevin Durant
led the team with 15 points, but missed every outside jumper he took and scored mostly at the rim and from the free throw line. So far in his three international games, Durant is 14-38 from the floor and 0-7 from 3. As someone that's watched Durant play a lot, it looks to me like he's pressing a bit.
In games where Durant wasn't able to just relax and play, he struggled at times last season. Coach K talked about how KD needed to be more unselfish and sometimes with a guy like Durant who plays a certain way without thinking much about it, that can get into his head some. There's obviously nothing to worry about with KD because he's got one of the smoothest strokes in the game and can score 25 in his sleep, but his three games thus far haven't exactly set the world on fire. I have no doubt he'll get it going though because even in games where he doesn't play exceptional, he's always good. Heck, even games he goes 13-17 for 44 points he thinks all night about the four missed shots. So don't fret about KD.
Durant's teammate
Russell Westbrook
on the other hand, made a strong statement for a roster spot. He was named MVP of the game scoring 12 points while really kicking his team into gear with a ton of high energy off the bench. He had his jumper going as he hit two 3s and was a menace defensively, hawking Lithuania's guards all over the floor. Westbrook is likely a bubble guy, but showed today where he could have value. He's not a strong shooter, but he's a player that is valuable in a number of different areas. He defends, rebounds, penetrates, creates and sometimes when he gets that jumper going, can score at will.
There's no telling which direction Jerry Colangelo and Coach K are leaning on picking between
Stephen Curry
,
Eric Gordon
and Westbrook (the three likely competing for the last roster spot) but for the most part, Curry and Gordon do the same things, at least on this roster. Westbrook provides a number of different skills. So a combination of Westbrook plus either Curry or Gordon to go with
Chauncey Billups
,
Derrick Rose
and
Rajon Rondo
might make the most sense.
It wasn't a pretty 40 minutes of basketball for the Americans, but Lithuania gave Team USA a good push. That's definitely a good thing because it gives Coach K something to point out in the film room plus is a minor wake up call that you can't just waltz through this tournament. These teams may not have a name on them that you recognize or can pronounce, but they can still play.
Team USA takes on Spain in another exhibition in Madrid Sunday at 3 p.m. ET. The game can be seen on NBATV.