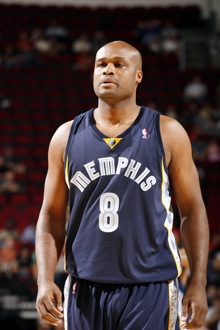 Posted by Royce Young
This summer saw some unlikely free agent moves and some older players have trouble finding a home. Guys like
Shaquille O'Neal
and
Tracy McGrady
had some issues finding a suitor, while Allen Iverson is still drifting waiting for a call. So when a guy like Antoine Walker decides to come out of retirement, it's pretty safe to say the best chance he has of getting on a roster is by finding a spot on the coaching staff.
But according to his uncle Chico Walker,
a former Red Sox player, "four to six teams" have expressed interest in Walker. Plus, Uncle Walker says Antoine has dropped somewhere in the neighborhood of 25 pounds working out at Louisville under former college coach Rick Pitino and is hungry to make a team. If I'm guessing, you can bet Walker has made a couple (or a hundred) calls to Pat Riley for a spot on the
Heat
. Walker actually spent two seasons in Miami from 2005 to 2007.
Walker isn't THAT old at 34, and was always a deep threat. But what does he have left? He was playing internationally last year and was dropped from the Puerto Rican league after appearing in only eight games and hitting just 22 percent from 3. The last time he appeared in an NBA game was 2008 with the
Grizzlies
. He may have slimmed up but that doesn't necessarily mean he's still got it.
Obviously Walker's motivation is cash money. He recently filed for bankruptcy and is now working to pay back the $1 million a judge said this summer he must pay some Las Vegas casinos. He's had issues in his past like a DUI charge, but maybe this attempted comeback means he's straightened things out and is looking to turn a corner. As Chico mentioned, "[Antoine] said, 'I made a lot of mistakes and I trusted the wrong people. I realized going forward I have to have positive people around me, just in life period. I have to have a lot of positive people around.' And I think now he gets it."
If Walker even gets a camp invite, that'll be an interesting story to keep an eye on. And if he's learned lessons and is serious about getting right financially, then Walker could be someone worth rooting for.