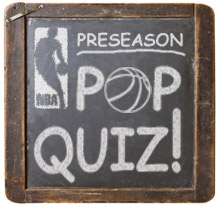 Posted by Matt Moore
Fall is here, hear the yell, back to school, ring the bell ... The NBA season is right around the corner, and NBA training camp starts in just a few short weeks. To get you ready for the NBA season, we've put together 25 pop quizzes. Pencils ready? We kick off our Pop Quiz series with the following question...
Is Milwaukee Legit?
The
Bucks
had terrible prospects going into last season. Considered an Eastern-Conference also-ran, with a questionable "centerpiece" center in
Andrew Bogut
and a reach of a first-rounder in
Brandon Jennings
, no one expected them to succeed. And yet, despite all the criticisms constantly lobbed at Scott Skiles, his team did what his teams do best. They defended like samurai, attacked the glass, and won far more games than they were expected to. Additionally, Brandon Jennings made a legitimate push for Rookie of the Year, an award he likely would have won were it not for
Tyreke Evans
' historic performance (with apologies to
Stephen Curry
's wheeling and dealing). Jennings had nights where his questionable shot selection, fueled by the kind of confident sense of bravado you want in your superstar, hurt the team, but more often than not, he proved himself exactly what the team has needed for a decade: a true star.
But that was last season. And after Andrew Bogut's arm injury has him still
trying to fight through rehab
, the question has to be asked. Are the Bucks legit, or was last season the type of spike that fans will look back on as the high point, followed by a long slide back to the margins? If we're going to try and suss out the answer, we need to look at their strengths and weaknesses.
The Bucks were the
fourth best defense
last season (we're talking defensive efficiency here, don't fall for the fallacy of points per game, which doesn't account for pace). They were fourth in opponents' turnover ratio but only tenth in opponents' field goal percentage (45.1%). But very relevant? They were
fourth best at defending at the rim
. That's got a lot to do with Bogut, who was an absolute iron curtain down low. But
Ersan Ilyasova
,
Luc Richard Mbah a Moute
, and even
Dan Gadzuric
were all good at attacking anyone that dared challenge the Bucks at the iron. They were also sixth in three-point defense. What this means is that the two most efficient areas on the floor, the Bucks were exceptional at. Their only real area of problems, defensively? 10-15 Feet, where they were dead last in field goal percentage allowed. So the Bucks really needed to upgrade their wing and mid-range defenders.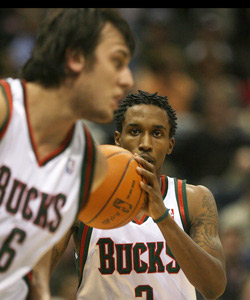 Which is fitting, because similarly their wing offense was also where they desperately needed help. The Bucks' offense
in general was a mess
, but with Jennings and Bogut, they at least have cornerstones to work with. The addition
John Salmons
was significant for improving their scoring distribution, and
Carlos Delfino
proved to be a valuable asset as well. The best news for the Bucks is that they improved precisely at that position, filling in for the injured now-trade-chip
Michael Redd
with
Corey Maggette
, while only losing Gadzuric and seldom-used wing
Charlie Bell
.
The Bucks improved at the position they needed to, adding both Salmons (and subsequently re-signing him) and also added a ton of muscle down low by drafting
Larry Sanders
and adding
Drew Gooden
in free agency. While Gooden's usage is a bit high, he does provide somewhat of a backup plan in case Andrew Bogut continues to struggle recovering from the arm injury. That said, just as it was in the playoffs, this team's chances are tied to Bogut. Bogut has to not only recover, but re-assume his position as a premier big man in the league if the Bucks are going to repeat their success of last year. Similarly, Brandon Jennings has to take a step forward, grow a sense that maybe that off-balance 18-foot jumper on the run is not the best option offensively for this particular moment of time, regardless of how hot he "feels."
This is a team sound throughout its principles and structure. But its superstars will have to take steps forward if they're going to keep pace with the rest of an improved Eastern Conference.
Finally, the real test for if this team is legit is if Skiles manages to get the same effort night after night from this team that he did last season. There's been a pattern with Skiles' losing the ears of his players with the incessant yelling and discipline, and it'll be up to him to show some restraint and trust. Not exactly something he's known for. But Skiles has improved in his coaching style, so it's not out of the realm of possibility.
At the end of the day, the Bucks won with defense, rebounding, a dynamic point guard and stellar center. That's a formula that's been relied on to win. Throw in the fact that they added to their team while losing no essential component, and while it's not a sure thing, it's safe to say you can legitimately fear the deer for another year. That was an unfortunate rhyme.
Be sure to follow the NBA Facts and Rumors blog on Twitter @CBSSportsNBA