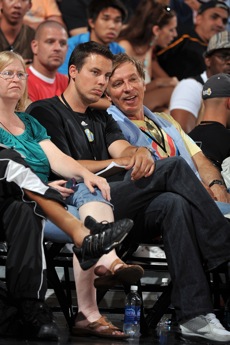 Posted by Royce Young
The storm on the
Carmelo Anthony
front has calmed for a bit. Nothing new has been dropping and no new rumors to report. Wait, there is one that surfaced late yesterday
via Chris Dempsey of The Denver Post
who said he's hearing the
Clippers
might be a possibility for Anthony. But other than THAT, not too much going on.
So this was probably a good time for the
Nuggets
to talk with Carmelo. And that's what executive Josh Kroenke did,
reports Adrian Wojnarowski of Yahoo.
Kroenke attempted to sell Anthony on the Nuggets, Denver and the team's future while pushing for Carmelo to sign the three-year extension that's been on the table for months.
Wojnarowski also said the
Rockets
are the likely frontrunner for Anthony and that the
Knicks
have likely been overstated. One other interesting note is how this thing might go down.
Wojnarowski writes:
Anthony still believes he can get the maximum possible money from re-signing with the Nuggets now, sources said, with his sights on engineering a trade to a preferred destination later. For him to opt out of his contract at the end of next season would be an immense risk. With league owners determined to shorten the years and lessen the money on max contracts in the next collective bargaining agreement, Anthony and his representatives know they could cost themselves tens of millions of guaranteed dollars.
Anthony is looking at a sign-and-trade, which the Nuggets likely don't prefer. With a sign-and-trade, the team is a bit handcuffed because its leverage goes out the door. Instead of being able to get up from the table and say, "Fine, we won't trade him period," other teams negotiating know the Nuggets have to get the player moved. So with the sign-and-trade, Denver would probably get back less.
But there still is the possibility that no one seems to be considering and that's the option that the young Kroenke made an impression on Anthony, sold him on Denver's future and that Carmelo wants to stay with the Nuggets over uprooting and going somewhere new. From what we've heard lately, that's probably not happening, but it's obvious that the Nuggets haven't given up quite yet.