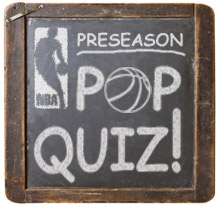 Posted by Matt Moore
Fall is here, hear the yell, back to school, ring the bell ... The NBA season is right around the corner, and NBA training camp starts in just a few short weeks. To get you ready for the NBA season, we've put together 25 pop quizzes. Pencils ready? We continue our Pop Quizzes with this brain teaser...
Is this Don Nelson's last ride?
Do you realize Don Nelson's been in the league since 1962? As a coach since 1976? We're not talking, "he's been in and out of the league," either. We're talking at some point every single calendar year, Don Nelson has been on the payroll of a professional basketball team since 1962 (with less than a handful of hiatuses in between). With all the stress, intensity, drag, and confusion of the NBA, no wonder Nelson has adopted an... unorthodox strategy and attitude towards his job. In that time, he's won the most games in NBA coaching history, with teams in Milwaukee, Dallas, and Golden State.
But as the years have gone on and Nellie's teams have not only failed to achieve success, but have failed to adequately develop the athletic young talent they've drafted, the
Heat
has risen on the now-70-year-old coach of the
Warriors
. New ownership is in place, and they have brought with them
talk that they may want to go
in a new, younger direction. Nelson has said he'd like to finish the last year on his contract, but understands if they go in another direction. So the question may not actually be if this is Nelson's last ride, but if he'll be able to get on the horse to begin with.
As
the Mercury News reports
, the timing of the sale's finalization may leave no viable alternative to keeping Nelson on. However, there's ample precedent to removing the remainder to get a clean slate as soon as possible. Assistant coach Keith Smart could take over the team with the same run-and-gun system and the team can see how it goes. Then, if a change is still desired, the regime transition can be made on the schedule new ownership desires.
So what are the pros and cons of keeping Nellie for one last hurrah?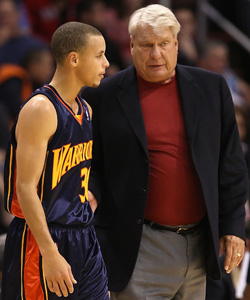 The benefits are largely built around stability, and the hope for a repeat of 2007. Nelson's success has been marginal, but when the team gets itself together, it can push the ball like no other, and that chaos gives teams fits. Keeping Nelson for his final year means that there won't be any drastic changes to what they know they can get from the players who have excelled under Nelson. A change risks those players taking a step back and struggling to adjust to whatever new wrinkles are implemented. And despite the numerous personal conflicts that have arisen with Nelson, he has become close to the players, including taking a number of them out for a beer last year. Insert joke here. But with as many young players as the Warriors have, that kind of relationship could be dangerous to disrupt, even if in general it's not ideal to begin with.
And that pulls us into the cons. You can talk about wins and losses, but for new ownership, for a team looking to change its direction, wins and losses aren't the first and foremost concern. Instead, they are likely focused on how the team develops. And that's been a dramatically lacking area for Nelson.
Brandan Wright
,
Anthony Randolph
,
Monta Ellis
, the list goes on in regards to players that have found themselves in Nelson's doghouse without any clear path out. While
Stephen Curry
excelled last season, his natural talent is going to get the bulk of that credit. (Hey, it may not be fair, but it's how it is. Ask
Bulls
fans who was responsible for
Derrick Rose
's progression, Vinny Del Negro or Derrick Rose.) Then, when we're past all that, and the win-loss record isn't good. Nelson's system is fun to watch and has its moments, but it also compromises fundamentals of winning basketball like defense. And defense. Mostly, defense.
But most importantly, Lacob and company have made it clear that they intend to turn over a new leaf with this team. That means a new direction and that means a new coach. The clock is ticking for Nelson in Golden State. He's made little to no noise about continuing his long ride after this horse is done with him. This really most likely is the end of the road for Don Nelson's historic career. We'll have to see if he's got any more tricks left in the bag on his way out.