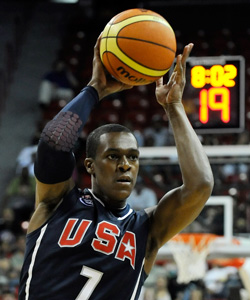 Celtics guard asks to be cut for personal reasons, final roster set.
Posted by Matt Moore

A shocking development came down the pipeline of Team USA today, as
Rajon Rondo
has been cut from the team,
after asking to withdraw for personal reasons
. Head of USA basketball Jerry Colangelo thanked Rondo for his effort and commitment and issued a statement of support for the Celtics guard. Rondo had been the starter for Team USA, but had also looked lackadaiscal and dispassionate for long stretches.
The final cut was widely talked about being between
Stephen Curry
, whose game fits well on the international stage but who has been battling injury, and
Russell Westbrook
, the lowest name guard on roster. With Rondo out, they both make the team. Losing Rondo hurts in several key areas however. While a lot of talk has been about the lack of shooting on Team USA, an area Rondo was not equipped to help in, his pressure perimeter defense and distribution skills were unmatched among the plethora of guards Coach K and Colangelo decided to take overseas. Losing him means
Derrick Rose
will need to step up considerably on both sides of the ball to be the distributor, with
Chauncey Billups
primarily playing shooting guard for the club.
The final Team USA roster, finalized today with Rondo's withdrawal:
Chauncey Billups
(Denver
Nuggets
)
Tyson Chandler
(Dallas
Mavericks
)
Stephen Curry
(Golden State
Warriors
)
Kevin Durant
(Oklahoma City
Thunder
)
Rudy Gay
(Memphis
Grizzlies
)
Eric Gordon
(Los Angeles
Clippers
)
Danny Granger
(Indiana
Pacers
)
Andre Iguodala
(Philadelphia
76ers
)
Kevin Love
(Minnesota
Timberwolves
)
Lamar Odom
(Los Angeles
Lakers
)
Derrick Rose
(Chicago
Bulls
)
Russell Westbrook
(Oklahoma City Thunder)
The 2010 FIBA World Championships begin Saturday.