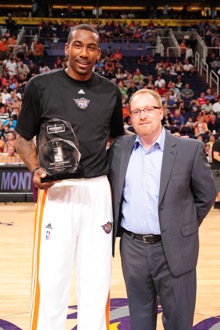 Posted by Royce Young
In one of those, "Should we be looking deeper into this?" type of stories,
Sam Amick of Fanhouse reports
that the
Nuggets
have made their selection for general manager, offering the position to David Griffin last week. But Griffin hasn't accepted. Of course, this makes one wonder, why?
Amick says financial negotiations are believed to be the hang up, but it's hard not to think that maybe Griffin, a former executive with the
Suns
, sees a tough rebuilding situation in Denver coming. Maybe he knows something more than about
Carmelo Anthony
's intentions. Or maybe it's just simply that the compensation isn't what he had in mind. Whatever the case, the Nuggets are now potentially looking at Plan B, Masai Ujiri.
Whoever accepts the job whether it be Griffin, Ujiri or somebody else, the situation in Denver appears to be a difficult one. The team is in great shape on the surface. The Nuggets have a star, have a good fanbase, have a good market, have had recent success on the floor and have a quality roster ready to compete this year.
But underneath all of that is a franchise that is looking at losing its face, probably trading away one of its top scorers and two of its cornerstones are unrestricted free agents next year. So this is definitely a time of transition in Denver.
Which is why it's slightly hard to believe this is just a financial issue with Griffin. It's possible Griffin knows he's walking into a tougher-than-expected circumstance with Denver and therefore wants more money and more guarantees. If Griffin already knows he's losing Carmelo, maybe he's reconsidering or at least, wanting more job security.