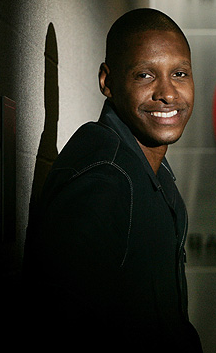 Posted by Royce Young
And the man tasked with figuring out what the heck to do with
Carmelo Anthony
and
J.R. Smith
is... Masai Ujiri!
Ujiri has reportedly been hired by the
Nuggets
to replace Mark Warkentein and is likely set to sign a contract sometime today. Most haven't heard of him, other than the past few weeks when his name started popping up for this position. But Ujiri got his start in scouting and slowly climbed the front office ranks before finally landing the big chair in Denver.
But who is he and what has he done? A quick look at his background:
First the most important thing about Ujiri: How do you say his name? It's pronounced "Ma-SIGH u-JEER-e".
Ujiri comes to Denver from Toronto, where he has spent the last three years in the front office as an executive. As assistant general manager to Bryan Colangelo, Ujiri was a key in the Raptors utilizing international players like Carlos Delfino, Jose Calderon and Andrea Bargnani.
Ujiri is a native of Zaria, Nigeria and has played an active role there in promoting basketball. He started the well-known Top 50 Bigman Camp eight years ago and also served as a director for the NBA's Basketball Without Borders Africa program. Solomon Alabi, who was a draftee of Toronto this past year, was a participant in the the camp.
It could be important that Ujiri is a former employee of the Nuggets. Ujiri was with Denver from 2003 to 2007 and previously served as an unpaid scout for the Orlando Magic in 2002-03. With both the Nuggets and Magic, Ujiri served primarily as an international scout. Most people say Ujiri already has a good relationship with Carmelo Anthony, which obviously is Ujiri's No. 1 priority.
So if you're wondering, no Ujiri was not responsible for the Nuggets disatrous pick of Nikoloz Tskitishvili in 2002 because he was still working for Orlando at that time. You cna exhale now, Nuggets fans.
Ujiri went to prep school in Seattle, went to junior college in North Dakota, played college basketball at Montana State, then spent six years playing professionally in Europe, with stops in Belgium, Germany, England, Greece and Finland. So you could say Ujiri is well-traveled.
He's young. At just 39, Ujiri is one of the younger general managers in the league. He's not the most qualified GM in terms of experience, but most agree in the basketball world that he's a bright, upcoming front office star.
Obviously Ujiri is going to be seen as Plan B by most since David Griffin turned down the Nuggets job, but Ujiri was on Denver's radar from the very beginning. His ties to Denver obviously helped, but the Nuggets have been interested in expanding their international scouting and Ujiri obviously has expertise in that area.
In an interview with NBA.com about Basketball Without Borders, Ujiri said this about the growth of international basketball: "You cannot miss it. There's no running away from it. You have to cover everywhere. Basketball globally has gotten better, the skill level has gotten better. What some of the international kids are doing in the NBA is amazing."
Before, Warkentein shared power with Rex Chapman and Bret Bearup, so nobody really knows exactly how much Ujiri will be in control of in Denver. Maybe that was one of the hangups with David Griffin. But the Nuggets are in the midst of a complete shift as former owner Stan Kroenke passed the team to his son Josh, who is only 30 years old. So the Nuggets are young in the front office for sure and by most accounts, in good hands with Ujiri.