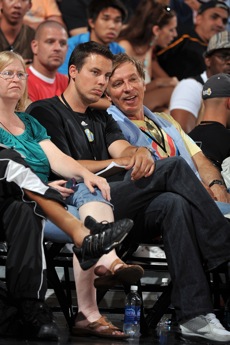 Posted by Royce Young
How do you become a 30-year-old professional franchise owner? One way: Have your dad give you his team. Or both of them for that matter.
Current Denver
Nuggets
owner Stan Kroenke recently won a bid to buy the St. Louis Rams for a reported $750 million. And because of NFL rules, a team owner isn't allowed to retain control of teams in other sports located in other cities. That's a problem for Stan who owns both the Nuggets and the NHL franchise, the Colorado Avalanche.
So Kroenke has passed both the Avalanche and the Nuggets to his son Josh, a former Missouri Tiger basketball player who happens to be only 30 years old. Kroenke must pass operational and financial control of those teams to Josh by the end of the year. He must give up his majority stake in the teams by December 2014. So while Josh doesn't technically "own" the teams, he's in charge of them. Kind of like when your dad buys you a car for your 16th birthday. It's your car, but it's really his. Or something like that.
Josh will serve as governor of the NHL team and set the budget, but team president Pierre Lacroix will retain control over personnel decisions. But given the fact Josh clearly has basketball interest and knowledge, he'll likely have a larger role with the Nuggets. We've already seen him getting involved as he met personally with
Carmelo Anthony
and was a very big part of hiring new general manager Masai Ujiri.
The Nuggets are in an interesting situation all around with the front office shuffle, the Carmelo situation and now the ownership changing hands. It's hard not to wonder how this transition will take shape and how Josh will insert himself into the Nuggets business. He's appeared proactive early, so with new hire Ujiri, it'll be curious to see how much power is yielded to the new general manager.
The elder Kroenke also owns the Colorado Rapids of Major League Soccer and the Colorado Mammoth of the National Lacrosse League. In addition, he is the largest shareholder in Arsenal of the English Premier League. Josh doesn't get to cash in on those two however, as they stay with Stan.