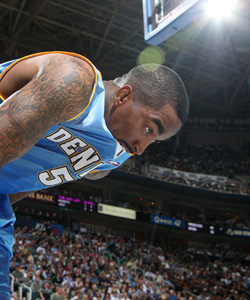 Nuggets guard reportedly chokes player during pickup game at Nuggets facility.
Posted by Matt Moore
It would appear, ahem, that Earl Smith felt he had to choke a dude.
J.R. Smith
, the mercurial/embattled/heavily-tattooe
d-to-a-ridiculous-degree guard for the Denver Nuggets was investigated by the police yesterday in an incident at the team's training facility,
according to FanHouse's Sam Amick
. Smith was apparently being guarded in a pickup game by a former D-League player not currently in the NBA who was instructed by coaches to get physical with the gunner.
A source in the facility told FanHouse that in the ensuing fight, "J.R. just lost it. He tried to choke the kid, and the kid called the cops."
Right, then.
Let the Sprewell references begin!
Smith had been rumored to be on the trading block this week anyway, with his biggest advocate, Mark Warkentien no longer with the team. Police confirmed their investigation to Amick, but no charges were filed. With this most recent incident, you have to wonder if it was the last straw for the Nuggets and if they will now simply take whatever offer they can get for Smith. Of course, the flip side of that is wondering who is interested in picking up a limited player with shot-conscience problems who just tried to choke a guy in practice. Not exactly ratcheting up the trade value, there, Earl. But at least Smith's $6.3 million contract is expiring this season. That should increase his value to a point they can at least ship him somewhere.
You'd think that Smith would have learned to stay out of trouble, but behavior like this is simply not something the Nuggets can afford, not with their
team in transition
and their star looking for a way out. The Nuggets' offseason from hell continues.

Be sure to follow NBA Facts and Rumors on Twitter at @CBSSportsNBA