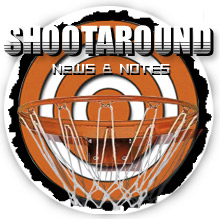 Posted by Royce Young
Mark Kiszla of The Denver Post: "The task of receiving anywhere near market value for Anthony in trade only figures to be more difficult with a growing perception the 6-foot-8 Denver forward is more interested in winning an Oscar than an NBA title. As a league executive told me: Anthony used to bleed basketball. But if you opened him up now and looked inside, what could be found closest to the player's heart? A love of the game? Or the desire to be a Hollywood star?"
Jeremy Wagner of Roundball Mining Company: "I know most observers are saying the Nuggets are going to fail to get equal value for Carmelo, and they are right. There is just no way around that fact. I strongly believe Denver is in a better position than everyone realizes. There will be competition between the Knicks, Nets, Rockets and Clippers. The Knicks, Nets are desperate to make a big move and acquire a marquee player. The Clippers are just a notch below that level. I can see Donald Sterling convincing himself that this is his chance to make a run at the Lakers and doing everything he could to acquire Melo."
Howard Beck of the New York Times: "With Fields signed, the Knicks' roster is essentially set. They have 14 players with guaranteed contracts and no immediate plans to fill the final vacancy. (Center Jerome Jordan, another second-round pick, will begin his career in Serbia. The Knicks retain his rights.) A handful of players will be brought to camp on partial guarantees and perhaps compete for the 15th spot."
Steve Nash talking to the Arizona Republic: "It disappointed me because we were close and we're going to miss a big piece, but I think Robert went to or beyond where anybody could ask him to go," Nash said. "This franchise would suffer a severe risk if Amar'e ever got hurt, so I understand why the last two years were guaranteed only if he played 22 minutes a game. I can't fault Robert for that. I can't blame Amar'e. He got that money guaranteed. It's just a shame."
D-League Digest continues on with grading teams use of the D-League. I find the differences fairly fascinating.