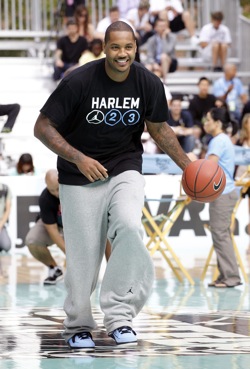 Posted by Royce Young
News about
Carmelo Anthony
's potential departure from Denver started coming out about a month ago.
First it was Ken Berger's report
saying Melo wanted to play in New York. Then
Ric Bucher of ESPN informed the world
that Melo was pretty much a lock to be moved. Everything cooled a bit, but then
Adrian Wojnarowski of Yahoo! came along
to shake the tree once again.
All signs (and news) points to Anthony leaving Denver. But that doesn't mean that new general manager Masai Ujiri isn't going to try and pull a Dell Demps and salvage the relationship.
Nuggets
executive Josh Kroenke already had a meeting with Melo, but Wojnarowski reported it didn't go that great.
Now Ujiri will meet with Anthony
and try and convince him of the Nuggets plan. This goes against Wojnarowski's report that said Denver was basically finished talking to Anthony. But then again, it might just be a front by the Nuggets to put on the appearance that they're desperately trying to keep Melo.
"I love Melo," Ujiri told The Denver Post . "I grew up in this league with Melo, kind of. It was my first years in the league, and I watched him grow. The Denver Nuggets want to keep Melo, and that's our priority. Carmelo is the Denver Nuggets, he's the city of Denver. He's done so well on this team. So we're going to deal with the issue full force."
Ujiri will have to sell Anthony on the chance to win. He can't convince him that he can maximize marketing in Denver. He can't convince him that his profile will rise. He can't convince him that his wife will get to be closer to bright lights. He can't convince him of a lot of things. But he does have the ability to tell Anthony that the Nuggets are good enough to win now and that he has plan to make them better. But Melo doesn't want to test free agency because he'll likely lose millions because of the new CBA and if he had interest in staying with Denver, he'd have signed that three-year extension weeks ago.
So it comes to down to Ujiri's pitch and if that doesn't work, then it's off to finding a suitor. Whether that's now or later, the Nuggets have the most leverage by making a move sooner than later. And one interesting thing to go with this:
As John Hollinger of ESPN mentioned,
if Denver trades Anthony, there's really no point in them hanging on to
Chauncey Billups
in his last year of a contract either. Which of course makes this whole thing so much more intriguing.
A lot of teams are popping up as destinations for Anthony, with some making a lot more sense than others.
Sam Amico of NBA.com reports
that three teams lead the pack for the Nuggets right now and that's the
Timberwolves
,
Kings
and
Nets
. But the biggest key in a deal for any team willing to give away assets to get Anthony is if he's willing to sign an immediate extension with his new team. And other than the Nets, those teams haven't really been a prime location for Anthony, if we're to believe the multiple reports out about where he prefers to sign.
Right now, the
Rockets
,
Knicks
,
Magic
,
Hornets
,
Clippers
,
Bobcats
, Timberwolves, Kings, Nets and
Warriors
have all been mentioned. In other words, basically one-third of the league. And of course, there's always the possibility that Anthony will stay with Denver. I think the serious contenders here are the Rockets, Magic, Knicks, Clippers and Nets. But that's just my own personal inclination.
While the Bobcats have the Jordan connection, the Warriors have nice assets to offer, the Wolves have picks, the Hornets have the draw of
Chris Paul
and the Kings have, well, I'm not really sure, I think you can eliminate them all. Anthony is going to go somewhere he's happy with and I can't see one of those destinations making sense for him, especially with all the hassle he's going through getting out of Denver.
Anthony is almost assuredly headed out of the Rockies. But that's not stopping Ujiri from trying to salvage the situation at the eleventh hour. It's unlikely he can convince Anthony to stay, but you definitely can't blame him for the effort.