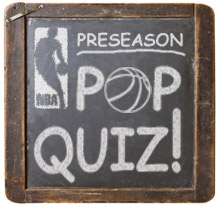 Posted by Matt Moore
Fall is here, hear the yell, back to school, ring the bell ... The NBA season is right around the corner, and NBA training camp starts in just a few short weeks. To get you ready for the NBA season, we've put together 25 pop quizzes. Pencils ready? We continue our Pop Quizzes with this question..
What can Shaq contribute to the Celtics?
We're going to make it through the rest of this entire blog post without using a single nickname. We're going to do it. It's going to be hard, but I believe if we stick together, we can make this happen. If you're ready, we'll begin.
Shaquille O'Neal
is ten years past his prime. I'm not exaggerating, either. That's not a figure of speech. His prime was literally the 1999-2000 season, meaning he's coming up on the anniversary of the season after his prime. In '99-'00 he averaged
29.7 points per game, 13.6 rebounds per game, with 3.8 assists and 3.0 blocks
while averaging 40 minutes a game. He shot 57.4% from the field. He had a 30.6 PER that season, good for
6th among centers
playing at least 30 minutes per game, all-time. O'Neal will never be considered in the same hallowed breath as Wilt Chamberlain, but it's close, and that season he was.
He really was the most dominant player in the NBA. But as I said, that was over ten years ago. What did O'Neal contribute last year? First, it's important not to look at it from a per-game standpoint. His position with the Celtics isn't based on what he can give them game to game, it's based on what he can give them minute to minute. And his per-minute numbers were great. If we project 20 minutes for O'Neal while
Kendrick Perkins
recovers from knee surgery, splitting time with
Jermaine O'Neal
, and we look at how he did with those minutes last season we get the following: 10.3 points per 20 minutes, 5.7 rebounds with 1 block. That's a pretty good night for a guy his age. 10 points, 6 boards, with a block. That's what you want out of a part-time veteran center. Consider
Zydrunas Ilgauskas
, three years younger than O'Neal and a part-time center for the Miami Triad, who averaged only 7.1 and 5.2 rebounds last season for the same Cavs team per 20 minutes.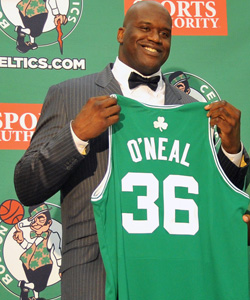 The biggest concern is that with O'Neal's size, he should be able to produce higher rebounding numbers. And for the Celtics, he'll have to. The Celtics were
a paltry 13th in Defensive Rebounding Rate
(percentage of all defensive rebounds available that were snagged) last season, and with Perkins down and
Kevin Garnett
another year older, they'll need even more from O'Neal in that area. His size should give him the ability to contribute more in the rebounds area and less in the points section. But that means sacrifice, which leads us to the biggest question mark about what O'Neal brings to the Celtics.
O'Neal has said absolutely everything you'd want to hear from him this summer. He talks about knowing his role, about not getting caught up in ego, and buying into the whole Celtics mythos built around team play and sacrifice. Execution is the tough part. It won't be difficult in the beginning, when everyone's settling in. But if O'Neal is playing well, scoring points but not collecting rebounds, and the team struggles in the win-loss column beneath their reasonably high expectations, O'Neal is more likely to start grumbling about getting the ball more. After all, if he's scoring, that's a good thing, right? But the issue is that O'Neal can't be considered the go-to, simply because he can't put in 30 to 40 minutes a night. The rest of the offense needs to stay in sync and not be bogged down trying to facilitate the guy playing 15 to 20. The Celtics have scorers. They need to maintain their defense and improve their rebounding, and they need to do it within both the tactical and emotional parameters they've already developed.
But unlike other emotionally volatile players the Celtics could have turned to, O'Neal does have one good aspect of his very large personality. He's a known quantity. Even if he doesn't follow through with the humble subjugation of his game for the good of the contender, you know what you're getting with O'Neal. He's going to miss a certain amount of games, he's going to look like dynamite for several games, and he's going to bring the attitude the Celtics want. They need to be arrogant, confident; the team that knows that it's a step above the teams in front of them. They thrive on that attitude, it helps fuel their game. And that's why in the end, signing Shaquille O'Neal wasn't that much of a risk. He's at once an antithesis and just what the doctor ordered. Now they just have to see how medicine goes down.
For more on the Big Shamrock (dang it!), follow us on Twitter @CBSSportsNBA