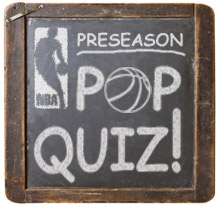 Posted by Matt Moore
Fall is here, hear the yell, back to school, ring the bell ... The NBA season is right around the corner, and NBA training camp starts in just a few short weeks. To get you ready for the NBA season, we've put together 25 pop quizzes. Pencils ready? We continue our Pop Quizzes with this question..
Normally the year after you lose one of your biggest stars is supposed to be a tough one to swallow. But the Rockets are liberated after losing
Tracy McGrady
, and have put that cap space to good use. Tack on the return of their other star in
Yao Ming
, and the Rockets have high hopes for 2010. They only added three players of note,
Courtney Lee
via the
Trevor Ariza
trade,
Brad Miller
in free agency, and
Patrick Patterson
in the draft. But those players combined with the assets they picked up through trade last season and the return of Yao Ming are what make people so high on the Rockets.
The Rockets built a roster based on versatility last season but injuries left them scraping things together, and in the meantime, their primary lineup didn't produce as expected. As a result, GM Daryl Morey went even further towards the versatility approach. The trade of Trevor Ariza was the most controversial, essentially starting over after only a year with Ariza. When we look at the lineups, though, that doesn't sound so crazy.
You always have to take plus/minus with a grain of salt, but there are circumstances where you can notice specific outliers. The Rockets lineups are such an example. The Rockets'
three most-often used lineups
(via 82games.com) all featured Ariza at small forward, and were a combined -19. That's in contrast to their fourth, fifth, and sixth most used lineups (all over 100 minutes), which were a combined +91. That's a big number. It's not conclusive, but it does provide some evidence for why the Rockets elected to ship him out for a backup shooting guard best remembered for a missed alley-oop in the Finals.
Kevin Martin
was the other significant acquisition. The Rockets were able to snag Martin at the trade deadline after an injury plagued season was compounded by his inability to gel with
Tyreke Evans
. Martin wasn't bad with the Rockets but he was far from the instant fix-all for their problems and they lost steam (again with the injuries) down the stretch. But he and
Aaron Brooks
seemed to be finding their way, despite both of them being heavy usage players.
So the big question for the Rockets isn't one of talent, it's one of chemistry.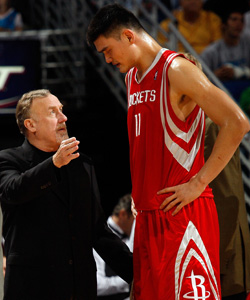 Yao Ming has been away from the practice floor since May of 2009. Kevin Martin has been with the team only two months of actual playing time. Courtney Lee is completely new.
Luis Scola
and
Kyle Lowry
just received new contracts.
Jordan Hill
is a newcomer, still settling in. Patrick Patterson is a rookie. Brad Miller just hopped on board. And for a team that relies on ball movement and separation like Rick Adelman's, this is a dangerous approach to trying to throw it all together.
Luckily, egos seem to be sparse in the locker room. Kevin Martin is certainly going to want his chances to score, and he'll get them. There's enough to go around. The rest of the team is largely filling in the gaps. Luis Scola should get a step back since he won't be guarding or guarded by centers with Ming on the floor, and Chase Bundinger and Lee give the team versatility and shooting.
Shane Battier
is the leader and prime example of the sacrifice this team will need to instill as a virtue in order to make a run in the West. This is not a case of any one player shouldering the load. Morey and Adelman have built a system based on depth and versatility, and they need to use that, exploiting matchups and tendencies where they can.
The addition of Yao cannot be understated. This was a dogged, tenacious, well-balanced team last year that struggled due to injuries and a lack of size. Yao provides them depth (vaunted post-defender
Chuck Hayes
is now third string behind Brad Miller), unparalleled post offense and defense, and a focal point for the perimeter cuts to work around. He's a willing and able passer, and even Miller works well in the pinch post with those wings slashing around. Consider all the perimeter shooter/slashers they have to work around their bigs:
Aaron Brooks (39.8% from the arc, 47% on 3pt attempts in hand-off situations)
Kevin Martin (44% in spot-up situations)
Chase Budinger
(37% 3pt, 40% as a spot-up three-point shooter)
Courtney Lee
Kyle Lowry
Jermaine Taylor
And here are their mid-range defenders:
Shane Battier
Jared Jeffries
(.84 points per possession allowed defensively, allowing only 39.2% from the floor)
Patrick Patterson - who can also stretch the floor
And their low-post guys:
Yao
Miller
Scola
Hayes
Jordan Hill
That's just a ridiculous amount of depth, and all of them with multiple skills. Martin can work on-ball or off, slashing or spotting up. Scola can work in the high or low post and has a reliable mid-range jumper. Making it all work will be Adelman's job, and there is such a thing as too much depth. It can cause discontent when players feel they're not getting time. And there's the ever-looming threat of the Big Move.
Daryl Morey has said repeatedly that though they've been successful in finding high value players, you cannot win in this league without superstars. And he clearly wants one to go with Yao's potentially final year with the Rockets. With Jeffries, Martin, Lee, Scola, Hill, and others, along with the picks he's acquired from New York, he has a set of assets to use if he wants to pursue, say,
Carmelo Anthony
. But that means more changes to the ship. All of this and they have to hope they stay healthy, which is an unlikely scenario given Yao's feet history.
In a perfect world, the Rockets could be contenders for making the Western Conference Finals, and facing a
Lakers
team they have consistently taken it to over the years. But that's the best case scenario. In the meantime, they'll have to try and integrate all the moving parts into one machine, and see how far it takes them. They've got the parts. They've just got to make them work together now that they're assembled.
(Situation-based data courtesy of
Synergy Sports
)