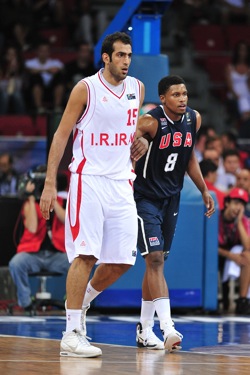 Posted by Royce Young
In a game that was really decided before it started, Team USA handled Iran 88-51 Wednesday. But despite the lopsided score, there was a bit of a sour taste left after the final whistle.
The first quarter was fairly ugly and the U.S. played relatively sloppy throughout. How does the saying go, you have to walk before you can run? Or something like that? That was Team USA's problem against Iran today, especially in the early going. The U.S. tried to blow out the overmatched Iranians in the first 10 minutes.
It was like they were trying to prove how good they really are in a matter of minutes, instead of just playing within the flow of the game. Everything was rushed offensively, they tried to fast break when it wasn't there, they gambled on passes constantly and forced up a bunch of shots early in the 24. After the first, Team USA only held a six-point lead, 19-13. Commentator Fran Fraschilla compared it well to a 2-seed playing a 15-seed in the NCAA tournament. The final result was likely already decided, but the favored team was just trying too hard.
But eventually the U.S. found its rhythm and started playing its game. What it really took was one player settling down and getting Team USA relaxed and into its game. One would of course expect that to be
Kevin Durant
, but it turned out to be the other Kevin that provided a much needed spark. In his first four minutes on the floor, Love poured in nine straight points and snagged three boards, as he and Team USA second unit really got the team moving.
The second half was a different story as the U.S. forced turnovers, got in transition and played solid halfcourt offense and defense. Still, it wasn't as crisp as most expect and would like to see, but the fact is Team USA took care of Iran just the way it should. The main positive was the U.S.'s man-to-man defense which was pretty terrific. Iran's slower guards never had a chance to breathe and
Hamed Haddadi
, Iran's main threat, wasn't able to get many quality touches on the post.
But man, credit Iran. They played as hard as any team I've seen in a double-digit game. Haddadi finished with 19 points and had probably 19 huge smiles. The Iran team had a great attitude throughout and grinded for all 40 minutes. The Iranians deserve a lot of credit for their performance, even if they were on the wrong end of a loss. Iran struggled mightily on offense, shooting only 30 percent and turning the ball over 24 times.
I think most were hoping for a tidy blowout to feel better about the close call against Brazil. And while the U.S. definitely didn't necessarily ease any concerns, in the end it was a 37-point dispatching of an overmatched Iranian squad. The starters didn't play much at all in the second half and after the first two minutes of the second quarter, the game wasn't ever in question. Nobody really stuck out statistically for Team USA as Durant led the way with 12 points, Love 13 and
Derrick Rose
11.
Team USA goes to 4-0 and wraps up Group play against Tunisia at 9:30 a.m. ET Thursday.