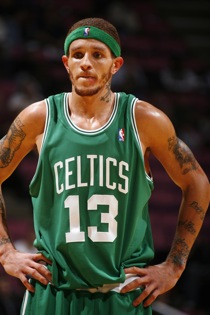 Posted by Royce Young
And the
Celtics
roster continues to get weirder.
A league source tells the Boston Herald
that Delonte West is ready to sign a deal with Boston.
West of course had one stint already with the Celtics, as he was drafted 24th overall in the 2004 draft and played in Boston for three years. He was then traded to Seattle in a deal that brought in
Ray Allen
. He most recently played with LeBron in Cleveland, but then was traded to Minnesota were he was promptly released.
The Herald says West will sign a non-guaranteed contract and will be in training camp this fall. So a spot on the roster is not a lock for the volatile guard. West is suspended for the first 10 games this season for pleading guilty to a gun charge.
West is a helpful role player when his head is right. He might be able to settle in as the team's backup point guard behind
Rajon Rondo
as currently rookie
Avery Bradley
is playing behind Rondo. The Celtic bench doesn't have a ton of punch off it currently with
Marquis Daniels
and
Nate Robinson
being the top scoring names right now. Of course
Jermaine O'Neal
and
Glen Davis
are on Boston's second unit, but in terms of guard production, the Celtics are a bit thin, especially after losing
Tony Allen
to free agency.
Last season in Cleveland, West played in 60 games and averaged 8.8 points and 3.3 assists in 25 minutes a game.