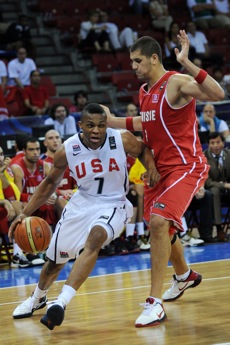 Posted by Royce Young
Team USA had it completely on cruise control from the outset, coasting through 40 minutes against Tunisia in a somewhat lackluster 92-57 win, or as lackluster a 35-point blowout can be. The U.S. finishes 5-0 in group play.
At the half, the U.S. only led 39-33 and held a two-point lead with two minutes before the break. It wasn't sloppy offense or defense really, just a lack of interest. The intensity was at an all-time low and a general carelessness in taking smart shots or fighting through screens.
Reasons for the U.S.'s lack of focus include, Tunisia is regarded as maybe the worst team in the tournament, plus the game was completely meaningless for the U.S. That's really no excuse for coasting, though the game was nothing more than a scrimmage. One of the fears of the last two games against Iran and Tunisia is developing poor habits going into the knockout round. Though at the same time, Coach K might be fine with Team USA taking things lightly and resting mentally and physically going into the tournament.
The final result was never in doubt and it was only a matter of time until the U.S. flipped the switch and put Tunisia away, winning the second half 53-24.
Eric Gordon
did the most flipping, hitting four second half 3s and finished with a game-high 21 points.
Kevin Durant
finished with 14 on 5-9 shooting.
Russell Westbrook
provided a few fireworks with a couple of loud dunks in the second half, but other than that, this was about as bland a game as there is. The starters barely played with Team USA's second unit handling pretty much the entire second half.
But the point is, Team USA took care of business all five games, even if some were uglier than others. Some expected a slip here or there against one of these teams and there really never was a question, outside of Brazil. But the U.S. is in charge heading into the knockout round and with a better second half against Tunisia and a well rested squad, everything is set up for a quality run.
Because of Australia beating Angola, Team USA will draw Angola in the round of 16.