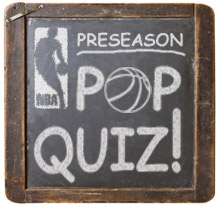 Posted by Royce Young
Fall is here, hear the yell, back to school, ring the bell ... The NBA season is right around the corner, and NBA training camp starts in just a few short weeks. To get you ready for the NBA season, we've put together 25 pop quizzes. Pencils ready? We continue our Pop Quizzes with this question..
.
What teams might people be sleeping on?
When the season starts, everyone is in first place. And when the season starts, everyone has the hopes of being that sleeper team that comes out of nowhere to shock the basketball world. Everyone thinks their team could be the next Oklahoma City
Thunder
, the next Tampa Bay Rays, the next New Orleans Saints. Even the most pessimistic fan has that small bone in their body that thinks, "What if?"
But for some squads, it's just not realistic. Just like there has to be a best team, there also has to be a worst team. We've already tried to focus in on that really, really bad team. But what about the squads maybe flying under the radar? Not just teams that might come out of nowhere and make a playoff run, but teams like last season's Memphis
Grizzlies
who were simply just better than expected. Or teams that people simply aren't giving enough credence to. So, who are this season's sleeper candidates?
Sacramento Kings
The Kings are almost approaching "trendy pick" territory, which is extremely dangerous. That's the area the
Clippers
were in last season and where teams like the Houston Texans have perpetually been stationed. It's like sports purgatory. You're better than terrible, probably mediocre, but because of elevated expecations, you're set up to be a disappointment. It's a really odd place. And the Kings might be in that category.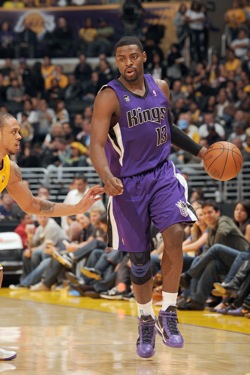 But the reality is, there's a ton of talent on that roster.
Tyreke Evans
is obviously waiting to break out into superstardom, smart moves brought in
Carl Landry
and
Samuel Dalembert
, two players that help a lot and of course drafting maybe the most talented player last June in
DeMarcus Cousins
helps. The roster has talent, and lots of it, but it's about overcoming youth and learning to win. The Thunder figured those things out last season as they put together an unexpected 50-win season. That expectation might be a little high for this young Sacramento squad, but seeing them as a potential .500 team or maybe even pushing for the postseason in March isn't too hard to picture.
Indiana Pacers
By playing much better basketball and finishing the last two months of the season 12-10, the Pacers played themselves out of a higher lottery pick. But what they might have done, is played themselves into a better 2010-11 campaign. Momentum heading into an offseason is always a good thing and even with a rag-tag roster that didn't feature a real point guard, the Pacers were able to compete. Now with
Darren Collison
, a proven point man, Indiana has something to get a little more excited about.
Of course losing
Troy Murphy
stings. Stings a lot in fact. Indiana is desperately searching for an interior replacement for Murphy, but for now, the Pacers will try and survive on
Danny Granger
's scoring, Collison's creating and the continued development of
Roy Hibbert
. The Eastern Conference is looking at a changing of the guard with teams like Cleveland falling down the line a bit. The eighth spot is wide open in the East, and the Pacers might just have enough to get there.
New Jersey Nets
Don't laugh. Seriously, don't. Everyone knows the Nets weren't truly as bad as their record indicated last season. It was a snowball effect that started in training camp and eventually led to the team flirting with the worst record ever. Simply put, that roster was just too good to win only 14 games last year.
But with the additions of
Jordan Farmar
,
Travis Outlaw
and Troy Murphy, there has definitely been a talent upgrade. An interior duo of Brook Lopez and Murphy is definitely one of the best combos in the East. Add in rookie
Derrick Favors
whose ceiling is so high even he can't touch it and the Nets are a lock to be better. Will they be a playoff team? Probably not. But can they be a vastly improved squad that at least can talk a little postseason around February and March? Definitely.
Portland Trail Blazers
What are they doing on here? Well, hear me out. Most aren't considering the Blazers a true Western contender this season. Most don't think Portland has what it takes to get to the Western finals. Playoff team? Certainly. But a team to be reckoned with? Hardly.
And that's where I think people might be wrong.
Everyone knows the well chronicled injury issues the Blazers faced last year. Starters missed lots of games, bench players missed lots of games, everyone missed lots of games. The team was ripped apart with injuries, but yet somehow, someway, made it into the playoffs and won over 50 games. So imagine that Blazer roster at full tilt. Of course that's a big if, because assuming
Greg Oden
will be healthy for a full season is like assuming Gary Busey won't say something crazy on TV. But even just having
Brandon Roy
, Joel Pryzbilla,
Andre Miller
and
Nicolas Batum
all together for a full 82 means that's a pretty scary roster. Is this your traditional sleeper? Not really because everyone already knows they're good. But the question is, just how good?