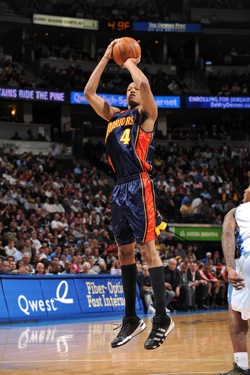 Posted by Royce Young
For anyone that thinks the
Knicks
are completely clueless, here's something to think otherwise.
Rudy Fernandez
has been lobbying to get out of Portland for months. Lobbying enough to get slapped with a $25,000 fine for it. The Knicks are on his short list of teams to be traded to and the Knicks would certainly love to have him.
And there was a deal on the table to make it happen. But Knicks general manager Donnie Walsh didn't hit the red button.
According to the New York Daily News,
a three-way trade sending newly acquired
Anthony Randolph
to Indiana, a first round pick to Portland and Fernandez to New York fell apart at Walsh's desk. Walsh evidently offered
Wilson Chandler
instead, but neither the
Pacers
nor Blazers apparently had much interest there.
The Blazers have made it clear they at least want a first round pick, something the Knicks don't have. So a third team is necessary to bring in. But the complication there is, you have to make this deal worthwhile for this third team. And Anthony Randolph would definitely be something worthwhile. I'm sure the Pacers were absolutely tickled at this deal before it felt through seeing as they desperately need a power forward.
But Walsh is smart to keep Randolph. Most agree that Randolph is one of the most uniquely talented players in the league with an absurd amount of upside. He was trapped in Golden State with Don Nelson's erratic playing time and treatment so the thinking is, out of that system and into Mike D'Antoni's, Randolph could flourish. And while the Knicks want a shooter really badly, Fernandez isn't a neccesity because of the offseason signing of Roger Mason Jr.
Fernandez's people definitely aren't done looking to move him and Blazer GM Rich Cho will certainly continue to look for a willing partner. But it doesn't look like the Knicks will be one of those teams, at least unless Anthony Randolph is not part of the deal.