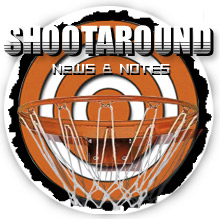 Reggie believes in Wade, Thomas believes in loyalty, and Butler believes in Burger King.Posted by Matt Moore
Reggie Miller believes the
Heat
are still DWade's team
. Miller's probably on target here, but the fact that this is debatable is an interesting thought exercise. After all, we say we determine the quality of a player not by his performance, but by how many rings he has. Wade is the only one of the Miami Triad to have a ring, and yet LeBron is burdened with leadership of the squad. It's possible that this whole thing could only serve to show us how we've been underrating
Dwyane Wade
the past few years.
In a summer that put a very large nail in the coffin of loyalty in sports, the Mavs' actions towards
Tim Thomas
remain a hand propping it open.
Art Garcia spoke with both Thomas and the Mavs
, and both sides used the
Magic
word, loyalty, in their joint decision to add Thomas to the
Mavericks
' roster this season after his wife's illness forced him away from the game. We'll see if both sides remain loyal if Thomas does well enough to earn more money next season, or poorly enough to force the Mavericks' hand at the trade deadline.
Derrick Rose
has been
obsessing over improving his three-point
range shot. The
Bulls
were one of the worst offenses and one of the worst perimeter shooting teams in the league last season. They were simply without a perimeter threat. They brought in
Kyle Korver
to fix that problem. But Rose is taking that burden upon himself and working to improve it while he's with Team USA. Giving that kid range makes him essentially unguardable. Yikes.
A list of NBA pairings that should happen, including
Greg Oden
and
the Phoenix training staff
.
Caron Butler
owns six Burger
Kings
, mostly due to the fact that he used to work at one. Do what you know, I suppose.
It's time to
put childish things away
and start acknowledging the potential that lies in Miami.
Larry Drew says the
Hawks
are going to switch less , which is a terrific idea. The switching killed the Hawks against the top teams in the league. Surprisingly, it worked against the
Celtics
, because they weren't fast enough to make the Hawks pay. But against Orlando, the Magic shredded them off switches by forcing penetration in the interim and creating space, the building block of their offense.
Kobe's
ready to go at it again
. Raise your hand if you're surprised.
An
interesting look
at who the Magic's rival is now. The Heat-Magic rivalry has
several factors boosting
it. It's an in-state rivalry, Dwyane Wade has killed the Magic (on a performance, not win-based level) over the years, and the teams play four times a year. The fans say the Celtics, but we'll see what they say by the end of the year.
In case you've been missing them,
check out our Pop Quiz series
.