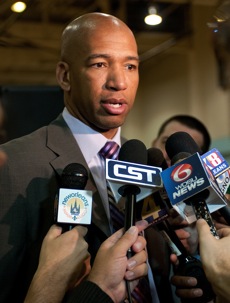 Posted by Royce Young
It's pretty obvious that the
Hornets
' offseason moves this summer were done for a pretty specific reason - to keep
Chris Paul
happy. The acquisition of swingman
Trevor Ariza
and then a deal to bring in shooting guard
Marco Belinelli
were both accomplished after reports of Paul's unhappiness surfaced.
And according to head coach Monty Williams, the Hornets might not be finished competing for CP3's heart.
"My gut feeling is that we are not done yet," Williams told the Times-Picayune. "Dell and I share information on both sides. I talk to him about players and he talks to me about things we can do. Maybe that's one of the reasons why we work so well together."
Granted, a lot of people pull the "We're not done yet!" card. Everyone is looking to improve if the opportunity presents itself. But the Hornets will actually be called on it if they're bluffing.
Some have mentioned New Orleans being a destination for Carmelo Anthony, though it's unlikely. I'm teaming with Chris Paul is intriguing, but it's not the market he wants and the Hornets probably don't have the assets to complete a trade with the Nuggets.
And while Williams talks about more players, the reality is the current Hornets roster might just be good enough for a playoff birth if everyone starts playing to their capability. Already in place is the best point guard in the league, plus a rising scorer in Marcus Thornton, then the addition of a quality defender and scorer Trevor Ariza. Add in David West who is an all-star caliber power forward and then center Emeka Okafor who has underachieved and that's a nice starting five.
Obviously a higher caliber scorer would be on the wish list, but as it stands, there's not really a clear cut hole in the first five. Okafor has been a disappointment for the most part, but he's definitely a capable player. Plus, he didn't have the luxury of playing with Chris Paul for the entire season. Do the Hornets need to make a few more moves? Of course. They need a new backup for Paul, a reliable bench scorer and a couple secondary big men. They aren't good enough right now to be a real contender. But are they that far off? Surprisingly, probably not.