Posted by Royce Young
It may have been a cakewalk for the U.S. in the round of 16, but the road to gold in Turkey is about to start getting a little more difficult. Next up is Russia for Team USA (Thursday at 11 a.m. ET), a squad with talent, size and a coach hungry to beat his native country.
How did they get here?
Thus far in the World Championships, Russia holds a nice 5-1 record. They went 4-1 in group play with only a 9-point loss to Turkey being a blemish. Russia dispatched New Zealand relatively easily in the round of 16 with Timofey Mozgov leading the way with 16 points and seven rebounds. Russia beat down New Zealand with tough defense, smart offense and by taking care of the ball. New Zealand shot only 31 percent from the floor and never had any rhythm on the offensive end.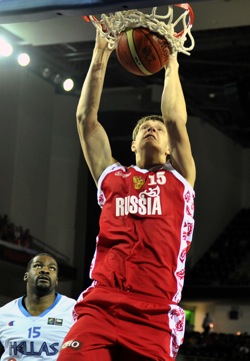 Who are their best players?
Russia's best player, Vik Khryapa hasn't played in the championships yet, and will likely sit out against the U.S. with a nagging injury. So after him, there's a Sergey Monya, a quality 6'9 swingman that can shoot, Andrey Vorontsevich who had 18 points and 11 rebounds against New Zealand, Sasha Kahn who you might remember playing for the University of Kansas and Timo Mosgov who signed with the
Knicks
this offseason and is 7'3.
Mozgov has been impressive in the tournament thus far, leading the Russians in scoring at 12.5 ppg in just around 18 minutes a game. He's displayed a wide range of ability and has become a major piece to the Russians success. Vorontsevich has hit 9-18 from 3 so far in Turkey and combining him with Monya, the Russians have shooters.
Who is their coach?
Leading the Russians is David Blatt, a duel citizen for both the U.S. and Israel. Currently, he's the coach for Maccabi Tel Aviv. Blatt played point guard for Pete Carril at Prince from 1977-1981. He runs a version of the Princeton offense that uses a bunch of cuts and offside movement to free up passing lanes.

Some bulletin board fodder from aforementioned coach?
Everyone remembers the famous 1972 gold medal game right? The USSR defeated the Americans in what some would call a "controversial" game. Basically the officials stole the game from the U.S. Doug Collins famously left his silver medal in Munich and has never held it. But the current Russian coach thinks the game was fair.
"By the way, there's a wonderful film about that, and I hate to say it as an American, but it looks like the Russians were right,"
Blatt told Chris Sheridan of ESPN.
"The American team was not cheated. Funny things happened, but in reality it was fair. It was fair."
Well,
watch the ending of the game
and tell me how it could possibly be fair. I'm sure Coach K has relayed this message to his team. If there was any extra motivation needed, Blatt just provided it.
How does the U.S. match up with Russia?
Russia has one of the most apt players to defend
Kevin Durant
in the 6'9 Monya, but still, even star NBA defenders can't hold Durant down. The Russians will struggle with Team USA's speed and athleticism, though Russia does have size. Mozgov is over seven feet, plus there's Kahn and Alexey Zhukanenko who are both 6'11.
Where Russia will struggle is with the guards. Pressure from Derrick Rose,
Russell Westbrook
and
Eric Gordon
will likely force a number of turnovers from Russia, as their guards aren't strong with the ball.
But there will be more focus on
Lamar Odom
,
Kevin Love
and
Tyson Chandler
in this one than any game before because Russia wants to use the post to get open looks for the guards and forwards. Rebounding will be key so we might see more Love early on than we have yet. At least I hope so.
Can they beat the U.S.?
This should be a better game than Angola. Russia has some talent, some size and players that can actually match up against the U.S. Plus, they have a coach that won't allow them to get into a free-flowing affair like Angola did. This is a much better team than what Team USA saw Monday.
But they don't have a chance. Russia will try and make the game ugly by grinding out long possessions and scrapping defensively, but there's just too much of a talent differential. It won't be a 55-point spanking, but it will most likely be at least double-digits. And with Blatt's recent comments, Team USA might make it a point to add a few more buckets than usual.