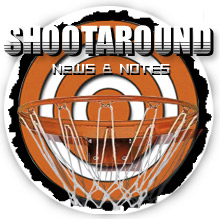 Posted by Royce Young
Luis Scola was a one man wrecking crew yesterday against Brazil. He finished with 37 points and scored six in the closing minutes for Argentina. He was so good, he got his general manager to tweet, "Scola goes into video game god mode to finish off Brazil. Wow."
Jason Friedman of Rockets.com on Scola's performance: "Having watched him for three years now, Rockets fans know the truth: Scola is simply passion personified. He loves the game. Loves the competition. Loves the challenge of improving himself every day. The Houston Chronicle's Jonathan Feigen once wrote that Scola is the walking, talking embodiment of every fan's ideal: that if we, too, were able to compete at the world's highest level, we would do so with the sort of passion and professionalism Scola displays on a daily basis. 99.999 percent of us play the game we love for free. If every professional basketball league on the planet were to suddenly dissolve, rest assured Luis Scola would play gratis, too. And he'd do so with a giant smile on his face."
Doug Smith of the Toronto Star looking at Team USA's added incentive against Russia: "If the United States is looking for any extra motivation as the quarter-finals of the world basketball championships unfold, the players can look back on one of the darkest moments in the international history of the sport in that country, to a time before any of them were born. It was at the 1972 Munich Olympics, in one of the most storied games in international basketball history, that Russia beat the United States in a gold-medal game marred by a replayed finish that had all the stench of a pre-ordained result."
Adrian Wojnarowski of Yahoo! looking at the same thing: "Thirty-eight years later, all the hate and acrimony between the Americans and Russians is gone on the basketball court. They used to look across the floor and wonder what in the world they had in common. All those Eastern European states – Serbia, Croatia and Lithuania – gobbled up the best players, and Russian basketball is left fighting for its identity, its soul, its future. Chicken fingers and potato skins in the shadows of the Ottoman Empire and Sea of Marmara — yes, the final victims of American sporting capitalism have paid a steep price."
Charles Barkley had a history of demanding trades and potentially chasing rings. Yet, he continues to rip on LeBron for the same things. Matt Bunch of Hot Hot Hoops looks at it: "So what's the end result? Let your biases be known. Identify you're being hypocritical, and explain why your present-day view is right and your past one is wrong. I don't think anyone is clamoring for ideological rigidity from Trent Dilfer or Mark Schlereth or Charles Barkley, but if you're going to say something that will figuratively make the listening audience's ears bleed, preface it (or follow it) with an explanation of why you just said that thing. It's the least you can do; we're not stupid."
Could Chris Bosh's departure lead to Andrea Bargnani's breakout? RaptorsRepublic looks: "Maybe it's a psychological thing with him, Bosh's departure might not open up space on the court, but it could in his mind? Huh? Or maybe it's simply a matter of hoisting more shots? Perhaps 14.3 FGAs a game doesn't cut it for him and if he ups that he'll be more interested in playing defense and will be more comfortable making plays for others. I'm clutching at straws here, but any way one looks at it, the burden of proof of whether Bargnani can become the player he was touted to be rests solely on him, not anyone else. It is no-one's "fault" that he's been under-performing except his. The coming season presents a different opportunity for Bargnani to excel, not necessarily a better one."