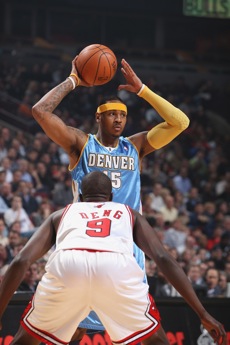 Posted by Royce Young
A few weeks ago,
Ken Berger clued the basketball world in
to the fact that
Carmelo Anthony
wants to play in New York. We've heard a bunch of teams mentioned, but
Marc J. Spears of Yahoo! Sports reports
that there's a top two on Anthony's wishlist: the aforementioned
Knicks
and the Chicago
Bulls
.
Those are just Anthony's preferences, and in the end, it really just comes down to where Denver sends him. So really, he could be traded to the Toronto
Raptors
if that's who the
Nuggets
negotiate a deal with. But the Bulls certainly have attractive trade pieces.
There's
Luol Deng
who could replace Anthony at small forward, plus young players like
Taj Gibson
,
James Johnson
and
Omer Asik
. We mentioned a few weeks ago that the Bulls reportedly have already
offered a package that included Deng and Gibson,
but obviously nothing has come of that yet.
Spears mentioned in his story that the Knicks would prefer Anthony wait until next summer to make his move. Anthony could opt out and with
Eddy Curry
's contract coming off the books, the Knicks could sign Carmelo outright.
Anthony has not yet met with new general manager Masai Ujiri about staying with Denver, but once that meeting is done, a decision shouldn't take long as to what to do with Carmelo. If Denver isn't going to be able to keep Carmelo, it would likely prefer to move him before training camp, or at least the beginning of the season.
And while Anthony is supposedly making his preferences clear, in the end it doesn't mean much to the Nuggets. They are in a position where they can negotiate with who they want and try and get what they want. But if they start waiting, those options and that leverage starts to deteriorate .