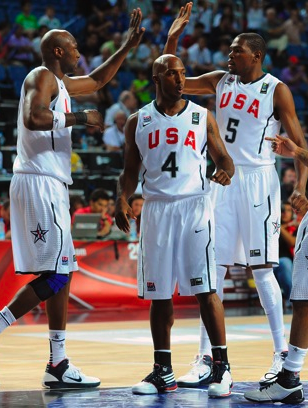 Posted by Royce Young
After a bogus whistle blew up a U.S. fast break in the second quarter with Russia hanging tight, some might have started to have flashbacks to the controversial gold medal game that took place 38 years ago to the day.
But
Kevin Durant
and company weren't going to let a repeat of the 1972 Olympic Games happen as Team USA advances to the semifinals with a 89-79 win over Russia. Durant led the way with 33 points on 11-19 shooting with
Thunder
teammate
Russell Westbrook
keying a big third quarter with 12 points and three steals off the bench.
Late in the second quarter though, things weren't going well for Team USA. Russia was hitting shots, outrebounding the Americans and held a 35-30 lead. But just the way it was planned, Durant took over igniting a 12-0 that helped the U.S. go ahead 42-35 and secure a lead they would never lose.
The U.S. did a splendid job of taking care of the ball, turning it over only eight times and only three times in the second half. That kind of ball security was necessary too, as Russia was playing smart upset-style basketball. Running quality halfcourt sets, hitting shots and defending at a high level. If the U.S. had gotten sloppy, this could have been a different result.
Westbrook was part of a big third quarter that saw the U.S. take complete control of the game. Westbrook had gambled some in the first half on defense, but in the third came up with three steals, all leading to run-out dunks. He was flying all over the court, stealing passes, firing up teammates and scoring at the rim. Westbrook was a major part in this win, and his main contribution was energy.
Lamar Odom
was quietly outstanding on the block, scoring six points and grabbing 12 rebounds. He was called upon to defend Russia's large front line and he did a pretty terrific job of it. Despite the size differential, Russia only held a four rebound edge against the U.S. and only had nine offensive rebounds.
A lot of
Knicks
fans had their eyes on summer signee
Timofey Mozgov
of Russia. The 7'1 center was solid, scoring 13 on 6-9 shooting. But it was pretty clear that unless Mozgov caught the ball near the rim, he wasn't scoring. Odom was able to push him away from the block and limit scoring touches for the big Russian. It's easy to get excited about Mozgov because he has nice hands, great size and has played well in Turkey, but as
Frank Isola of the NY Daily News pointed out,
Hamed Haddadi
also averaged 20 points per game in the Worlds. So maybe chill that exciting just a little.
Russia is a well-coached unit that focuses on controlling the game. And Team USA did a good job of playing to its own strengths and not letting Russia dictate tempo of the game. This was a dangerous game for the Americans because Russia was had a game plan going in and they were hitting shots early on. Commentator Fran Fraschilla compared it to an 8-seed versus a 1-seed in the NCAA tournament and he was right - it definitely had that feel.
It was a test that the U.S. passed. The Russians took their best shot and Team USA remained focused, came out with energy and the star players carried the load. Durant held up to the pressure of having to shoulder some weight, putting up big numbers, scoring in key moments and also, by playing a ton. Durant didn't check out of the game until there was 47 seconds left in the third.
As the tournament rolls into the semifinals, the Americans are going to face some adversity. There will be more situations where Durant will be called upon to score, Odom will have to rebound,
Derrick Rose
will have to create and
Eric Gordon
will have to hit shots. Today, the U.S. did all of the above. And heading into the toughest part of the tourney, that's what it will take if Team USA wants to come home happy.
Team USA gets the winner of Argentina and Lithuania in the semifinals Saturday.