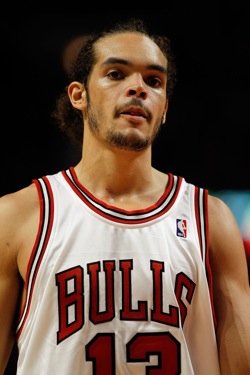 Posted by Royce Young
Fresh off the report that the
Bulls
are on the top of
Carmelo Anthony
's list,
a story from ESPN Chicago is out
including a player the Bulls are discussing trading to get the Denver star.
Brace yourself Bulls fans, because you might be a little torn. But according to the report, in order to get Anthony,
Joakim Noah
could possibly be included as part of that package. The
Nuggets
are also reportedly hesitant to take back
Luol Deng
as part of the deal because of his long-term contract.
For the Bulls, it comes down to how bad do you want Carmelo? If it's that bad, then you deal Noah, no question. You aren't going to get Anthony for peanuts and this is precisely the kind of trade package that would be enticing enough for the Nuggets to pull the trigger on. But at the same time, what Bulls fan wasn't pumped at the twin tower combo of Noah and
Carlos Boozer
? I don't care about the Bulls one bit and that duo had me excited. Plus, without Noah, Boozer's defensive deficiencies become highlighted, especially if Anthony is playing small forward in that lineup.
Noah has emerged as one of the East's best big men, averaging a double-double last season while also finishing in the top 10 in rebounding. He's a high energy player that blocked 1.6 shots a game last season.
Now the Bulls are just discussing including Noah internally. No offer has been made (that we know of). If Denver is hesitant to take back Deng, Chicago will be forced to up the ante. A deal sending
James Johnson
and
Taj Gibson
isn't going to get it done. But adding Noah into some kind of package is something that Masai Ujiri will have to stop and think about.
The issue is though, working out the numbers. The Nuggets would pretty much be forced to take back Deng in order to line up the salary exchange. A deal sending Noah, Johnson and Gibson isn't near enough salary to match Anthony's $17 million. But adding Deng plus Noah plus Johnson or Noah works.
Noah only has one year left on his current contract, so who knows if the Nuggets want a player they aren't guaranteed to keep. So in order to alleviate some of Denver's concerns about Deng's contract, Noah might be added as the trump card. At least, that's what the Bulls are discussing amongst themselves right now.