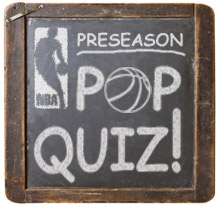 Posted by Matt Moore

Fall is here, hear the yell, back to school, ring the bell
... The NBA season is right around the corner, and NBA training camp starts in just a few short weeks. To get you ready for the NBA season, we've put together 25 pop quizzes. Pencils ready? We continue our
Pop Quizzes
with this question...
When
Carlos Boozer
departed for Chicago, the Jazz were facing a severe identity-search.
Deron Williams
may be the best point guard in the league (simmer down
Chris Paul
fans, I said "may"), but he can't do it alone. And even with
Paul Millsap
, the Jazz needed a legitimate post scorer. What they got, was a premier low-post scorer in the league in Al Jefferson.
Jefferson, who couldn't find a place in Minnesota (don't even get us started), is 25 years old, averaged 17.1 points and 9.3 rebounds, and 1.3 blocks last season. This in a season where he was coming back from significant knee surgery. Jefferson's offensive repertoire is extremely versatile, able to spot up, power-in, and comes with a drop-step hook that's a premium in today's NBA. He doesn't come without his question marks, though. Injury, defensive capability, and focus have all been listed as weaknesses on Jefferson. But that was in Boston and Minnesota. How does he fit with the Jazz?
Using Synergy Sports
which provides us with in-depth stats of how players performed in certain sets, we can compare what Boozer did last season with the Jazz with what Jefferson did, and how the two overlap. For starters, Jefferson spent more time in isolation, just slightly. Boozer only spent 5.7% to Jefferson's 8% in ISO. Neither were very productive, scoring only .69 (Jefferson) and .67 (Boozer) respectively. Not surprising for post players, though. In the post, we see some surprising numbers. Boozer only played 21.5% of his overall scoring plays in the post (355 out of 1649). This is compared to Jefferson's 56.8% (772 out of 1358 total). Jefferson was also much more efficient, scoring .92 points per possession in the post to Boozers' not too shabby .79.
To take these numbers into context, it means that it's unlikely Jefferson will be taking over Boozer's role, so to speak. Boozer was strong, but not incredibly so in the post, Jefferson is very strong, and efficient. Another interesting aspect to consider, though, is that Boozer had a higher rate of shooting fouls drawn in the post. Boozer drew a shooting foul in the post 9% of the time to Jefferson's 7.4%. This helped even up the scoring percentage (percentage of possessions resulting in points) between Jefferson and Boozer (46.6% to 44.2%). Jefferson will need to draw more fouls in the post to duplicate Boozer's success there.
But if Jefferson is the stronger post player, it's in the pick and roll that we see where Jefferson will really have to adapt. Jefferson's likely to get a fair number of possessions in the post where he's comfortable. But in the pick and roll last season, Jefferson only wound up in a scoring situation off the P'n'R 6.4% of the time. This is compared to Boozer, who ran the pick and roll with Deron Williams to death, using it 13.5% of the time he was on the floor. Boozer was also hyper-efficient in this set, scoring 1.27 points per possession in the pick and roll, good for 11th best in the league. Jefferson on the other hand, shackled by either Kurt Rambis' triangle system, a lack of a solid point guard, or his own limitations, only ran the play 87 times total, and only had 1.02 points per possession, though that still ranked extremely well. With Deron Williams, Jefferson will need to duplicate or improve upon Boozer's performance if the Jazz want to not only meet their performance of the last few seasons, but exceed it. The area Jefferson will need to improve most upon in the P&R is turnovers.
Jefferson turned the ball over 12.6% of the time in that set, compared to just 5% for Boozer. That's a lot of opportunities that Jefferson left on the floor. Part of that will improve considerably with Deron Williams as his point guard. But Jefferson will have to know where he's at in the play and how to finish, and that may take time to learn in a new system, especially given how little he ran it last season. He'll also want to improve on drawing fouls, where Boozer was better at 10.4% to 8% for Jefferson in percentage of shooting fouls drawn. Some of that comes with better teammates creating opportunities down low, and some of it comes with being more aggressively moving towards the rim in that set.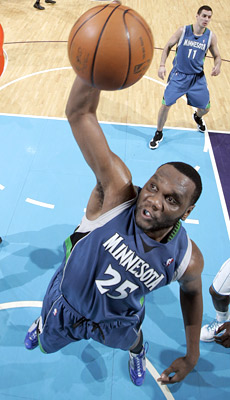 Another surprising differential was what Boozer did off the cut. Boozer often received the benefit of the Jazz' cut plays, using cuts 364 times for scores for 22% of the time. Jefferson only ran off-cut 6.8% of the time. Both were very efficient in this set though, with Boozer scoring 1.29 points per possession to Jefferson's 1.26. This looks like an area that could really benefit Jefferson, if his body and knees are able to execute it properly.
Outside of what Utah did, Jefferson is able to bring some things he's a beast at. Specifically, scoring off of offensive rebounds. Jefferson and Boozer were nearly identical in their offensive rebounding performance. Jefferson had an offensive rebound rate (percentage of all available offensive rebounds snagged) of 8.0%, and Boozer finished just slightly ahead at 8.2%. But in terms of scoring off of those rebounds, Jefferson is, quite simply, elite. Boozer is no slouch, scoring 1.16 points per possession off captured caroms. But Jefferson scored a stunning 1.41 points per possession of his 111 attempts. Once again, we see that Boozer was better at drawing fouls, though, getting to the stripe 11.3% of the time underneath versus only 5.4% for Jefferson. (In case you were wondering, neither were great at getting and-ones here, with Boozer only nailing the shot and drawing the foul three times, to Jefferson's 4). Jefferson managed to score 70.3% of the time when he grabbed an offensive rebound. That's stunning stuff. The Jazz have had troubles with being tough down low. Jefferson looks like he'll improve that area offensively immediately.
Of course, offense is only half the battle, and most cliche artists will tell you it's the lesser half. Defensively is where Boozer really looks like the better player. Boozer, being slighter, took on more isolation players, and held them to only a .7 points per possession mark. Jefferson, on the other hand, spent only 54 plays on defense in ISO situations, ending up with a .98 PPP mark. In the post, where we saw Jefferson was strongest offensively, Boozer was still the better player. Boozer used his length and savvy to harass opponents into a .88 PPP mark. Not elite, but not shabby. Jefferson wasn't far behind however. Jefferson allowed a .92 PPP mark, and only gave up a shooting foul 8.5% of the time, to Boozer's 14.8%. This helped even the gap, and the two finished remarkably close to one another in scoring percentage allowed in the post, with Jefferson slightly ahead (45.8% for Al to 45.9% for Boozer).
What does this mean? It means that in a better defensive system, Jefferson could not only not be the weak link, but could also be an improvement. In a bizarre development, both players defended the pick and roll man only 8% of the time. The results, however, indicate that Jefferson has a ways to go. Jefferson allowed a .95 PPP with a 46.2% scoring percentage. This is in contrast to Boozer, who allowed only .79 PPP and a 37.7% scoring percentage. Boozer did foul more in this situation, which is indicative of Sloan's system which is more likely to foul than allow easy layups or dunks.
All of this gives us a picture of what the Jazz will look like on the floor. If Jefferson is able to maintain his efficiency and burly nature down low on the offensive end while improving in the pick and roll, the Jazz offense will have a pair of beasts for Deron Williams to work with, and it may take a considerable amount of pressure off
Mehmet Okur
so he can do what he does best, shoot from the outside. The Jazz offense might wind up with better numbers than it had with Boozer. Defensively will be the issue, and head coach Jerry Sloan will need to work with Jefferson on where he needs to be and applying pressure. In an offensively loaded Western Conference, the Jazz have to be able to slug it out or they'll wind up in the same position many teams have found themselves. Able to bring their guns to the fight but without any protection from their opponents' weapons.
Next to Deron Williams, this could be one of the biggest surprises of the season. We've said for years that Jefferson just needs a chance to show what he can do. He's got that opportunity, now. The question will be if he can step up like Boozer has, and if he can bring the toughness Utah desperately needs.
Oh, yeah, and he needs to stay healthy. That too.