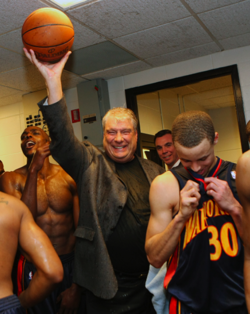 Posted by Royce Young
Don Nelson's days are numbers in the Bay Area.
But you already knew that.
Whether it's this year or the next, the NBA's all-time winningest coach won't be patroling the Golden State sideline any more. But
Tim Kawakami of the San Jose Mercury News says
signs are pointing to a sooner than later situation:
The signals are strong: If the timing is right and the discussions progress, my belief is that Joe Lacob is planning to move on from Don Nelson and probably install Keith Smart as the Warriors' interim coach for the coming season.

As Kawakami mentions, nothing is set in stone. For example, the new ownership group headed by Joe Lacob hasn't even officially been handed the keys to the franchise.
Also, Kawakami added that the Warriors recent moves (Lou Amundson and
Rodney Carney
) suggest the team might not be built to be coached by Nelson.
But time is running thin. Training camp starts in just a few weeks and past that, things start to get a bit awkward. Lacob prefers defense over offense and well, we know what Nelson likes to do. Smart would be a better fit to begin the transition the Warriors want to make. He's been in charge of the team before, the players know him and he'd fit well in moving Golden State from one system to the next.
Does it get done in two weeks? Or even a month? That comes down to the league office and how ownership gets transferred. Owners vote in October and by then, training camp will be in full swing. Plus, Nelson is owed about $6 million for his services for this season.
But this much we know: Lacob wants to move on and get his people in place. Current owner Chris Cohen is loyal to Nelson. And Lacob might be hesitant to make a mid-season move on a guy like Nelson, instead letting him ride a horse off into the sunset.
The whole situation kind of fits the Warriors well. Stuck in transition.