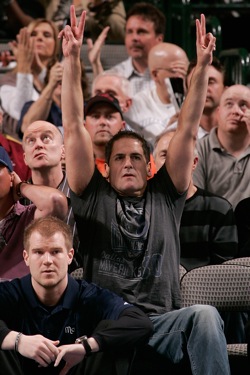 Posted by Royce Young
I honestly wonder when we'll move past LeBron and "The Decision." I'm just as guilty as anyone, sitting right here about to write another post about it. But when people pile on LeBron, since he's taking mental notes and all, it makes for good material.
And outspoken owner Mark Cuban - who is obviously very high profile - is the latest to do so. Cuban talking LeBron? That's like a blogger's Google search dream.
Cuban went on
The Dunham and Miller Show on 1530 The Ticket
in Dallas Wednesday and shared his thoughts publically on Lebron and "The Decision" for the first time. And as you'd expect, it's interesting stuff.
The Dallas Morning News transcibed the exchange
in which Cuban calls the one-hour announcement "the largest public humiliation in the history of sports."
"LeBron has every right to go wherever and do whatever, whatever team he wants to," Cuban said. "Going to the Heat was his choice, those guys working together. I don't even have a problem with the three of them working together, as long as they follow all of the



NBA

rules, which I think they did.

Where I think LeBron made a mistake, was in how he did it. I don't even have a problem that he had the tv show. But it turned out to be the largest public humiliation in the history of sports. He humiliated the organization, he humiliated the state of Ohio , the city of Cleveland . All of a sudden he became a bad guy, he lost a billion dollars in brand equity, give or take a couple Bucks here or there. ...

"I told his folks that I think he got bad advice. It's not about 'Can he move?' He can move, he can play for any team. I think he picked the wrong team (chuckles). There's a team in Dallas that could have used him and that would have been better served but it's his choice. But the way he did it I thought was just a huge mistake."
Cuban's opinion isn't anything new. Most everyone is actually fine with the fact LeBron went to Miami. Some think that it was a cop-out move, but most agree LeBron can do what he wants. It's just in the way he did it . The largest public humiliation in the history of sports? That's certainly strong, but off the top of my head, I can't think of many things worse than LeBron's shaming of Cleveland and Ohio.
And that's true in a lot of things in life. A choice can be a good one, a fair one, a smart one, but a lot comes down to how you do it. In LeBron's case, not many out there think "The Decision" helped him in any way. It was his choice and his move to make. He made it. He just didn't have to go about it in the way he did.
Cuban is one of the brightest businessmen out there. And in his mind, he saw LeBron's "decision" as a poor business move. Not many thought about "brand equity" but Cuban feels like LeBron could have lost billions there. That's billions with a "b".
Of course Cuban has no problem in LeBron changing teams. Well, I take that back. Cuban has some problem because he wanted LeBron to play for his Mavericks. He even mentioned that in the interview. But in an overall sense, Cuban doesn't care. Just like the rest of us, he was put off by the whole production of it.