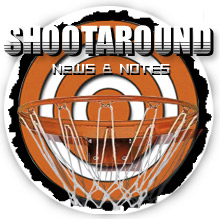 Posted by Royce Young
Shaquille O'Neal has been accused of computer hacking and throwing evidence in a lake, according to Radar Online . One of Shaq's former employees named Shawn Darling is the one making the accusations. It's a pretty long and messed up situation, but here's the gist: "At the time, Shaq was having an affair with hip-hop singer Alexis Miller who ended up accusing him of harassment and stalking. Shaq later settled with Miller. The lawsuit alleges, "O'Neal told Darling that Alexis Miller had obtained a restraining order and that O'Neal said could not remember what he sent to Miller by way of text messaging and E-mail." According to the suit, Shaq asked Darling to retrieve every email and text message that he sent Miller-as well as all of Shaq's phone records-- so that he could be aware of what he was dealing with."
It's the basketball equivalent of a pitch count. Yao Ming will be limited to 24 minutes a night says Jonathan Feigan of the Houston Chronicle: "Yao's playing time will not average 24 minutes; it will end there. If he plays 22 minutes in one game, he will not play 26 the next. For that matter, if he plays two minutes one game, he will not play 26 the next. When Yao reaches his 24 minutes, he will be through for that game."
George Karl to the Denver Post: "To me, my job is to, anytime I talk to Melo . . . it's to convince him that we won 53 games last year and I think we're very capable of being a lot better than we were last year," Karl told reporters. "Some of the bombs that hit our team injury-wise and my situation, I think we kind of need to stay together, in my opinion. It's pretty easy: Stay together and figure it out. Right now, I don't think Melo is going to be calling me for advice. Fortunately, it's not my job to probably call him to talk about that situation. My job is to talk about basketball."
Should Bill Laimbeer coach the Pistons? Patrick Hayes of Piston Powered says no: "I care about legacy. Being a head coach in Detroit would be bad for Laimbeer's legacy, because he would get fired. I don't know how long he'd last. And given the right roster (i.e. not the current roster), he might even find a mix of players he could have success with. But there's a good chance that things wouldn't end well (see: Trammell, Alan). What I dislike is the assumption that just because Laimbeer was a tough player who is beloved by fans that he'd naturally make a good coach. Even with titles in the WNBA, he hasn't proven enough as a coach, motivator or understander of the modern player to deserve that assumption." And it appears there's a rebuttal from Bill Laimbeer's daughter in the comments as well.
David Kahn, writing a letter to fans. In it, he tries to explain the reason to give Darko $20 million: "Telling Darko how important he could be to our future while offering him a contract that represents a major paycut was a delicate dance. Darko understood this, too, and thus was willing to allow us some financial protection in the final year of his deal if things didn't work out. But let me be clear: we think they will work out."