Posted by Royce Young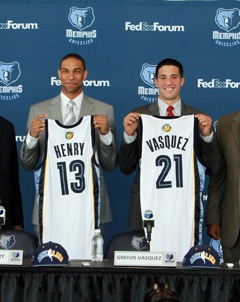 It's been 84 days since
Xavier Henry
and
Greivis Vasquez
were drafted by the Memphis
Grizzlies
. And finally, after those 84 days,
both have agreed to deals
with the Grizzlies, the last two rookies in the class of 2010 to do so.
Both players will sign contracts worth 120 percent of the NBA's rookie salary scale designated for their draft positions. The hangup the led to both players holding out was that Memphis was offering 100 percent of the rookie salaries with an added 20 percent tied to performance clauses.
It was a stalemate that as of a month ago, didn't look like would be resolved. Owner Michael Heisley was defiant on a Memphis radio show saying he didn't know you could put those performance incentives in the contract or he'd have done it before. Only one other players has ever had performance incentives in a rookie contract and that was in 1995.
But Heisley backed off, saying, ""As far as I'm concerned, I'm happy the issue has been resolved. There's no question I'm doing what I should have probably done earlier."
A swallowing of pride for a pretty prideful man.
What the Grizzlies were doing is completely allowed under the terms of the CBA. Teams can pay players between 80 and 120 percent of an amount set by the league's rookie scale. The Grizzlies' proposed incentive deal included:
Participation in summer league.
A two-week workout program with the team's training staff.
Satisfying one of the following: play in NBA rookie/sophomore game during All-Star Game weekend, earn an all-rookie selection or average 15 minutes in at least 70 games.
Truthfully, not too much to ask for a couple first round picks. But both players' agents were steadfast in not setting a precedent of signing a rookie scale contract with incentives. And for good reason too. Why should Henry and Vasquez be treated any differently from the other 28 first round picks? You can see how the stalemate went. Both sides had a point and there was really no middle ground. One or the other was going to have to give in.
The Grizzlies fielded trade offers from teams, but it was all show. They wanted their rookies all along. And finally, after a compromise, they'll get them.