Posted by Royce Young

Currently, the Miami Heat have 18 players on their roster. That's, like too many. And with Ken Berger's report that Miami is the leading destination for Erick Dampier, the roster might be even more crowded.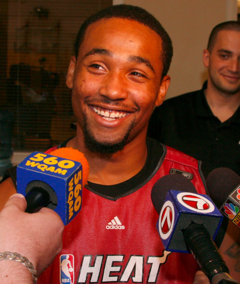 But Ira Winderman of the Sun-Sentinel reports that based on some interviews, the 15th and final roster appears to be second-round pick Da'Sean Butler's over Kenny Hasbrouck and Patrick Beverley.

For the Heat, training camp won't just be a time to build up chemistry for a completely revamped roster, but it's also a big audition for a number of players. It's clear that a lot of guys are willing to give up quite a bit to be on the new Heat roster, but Pat Riley and Eric Spoelstra want them to prove that in camp. Which is probably a smart move. Camp will be intense and competitive as guys battle for spots.

Players like Shavlik Randolph, Dexter Pittman, Butler, Beverley and Hasbrouck and looking for how they might fit in whether that's on the roster or somewhere in the rotation.

Winderman's report doesn't mean everything is over in Heat camp. Even if Miami cut ties with Hasbrouck and Beverley, the roster would be at 16, one over the maximum. I think the suggestion here is that Butler was in competition with the other two for that final spot. But if Dampier signs, someone else will be pushed out the door as well.

It's not a done deal for Dampier to head to Miami though. The Houston Chroncile reported that the Rockets have already extended a two-year deal worth $4 million. And Mike Wallace of the Miami Herald says Utah may be a leading contender for Dampier. But if Dampier heads to Miami, the Heat's front line will get even older, even slower but at the same time, even deeper.

It's probably a good thing the Heat moved training camp off site to an air force base. LeBron and friends are already a pretty big distraction not to mention all the roster and position battles to go with it.