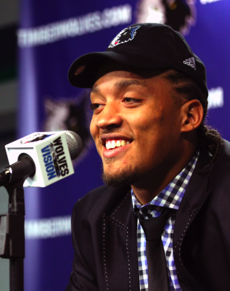 Posted by Royce Young
Since moving to Minnesota,
according to his general manager,
Michael Beasley
has supposedly given up his old habits. And by "old habits," I think you know what I mean.
But then he goes and says something like this which makes you think maybe he hasn't.
"Honestly, and I know a lot of people are not going to like that fact that I'm going to say this but I think we are the team to beat," Beasley told Timberwolves.com in an interview. "You know, that's just me and my ego speaking. I think the Lakers are the defending champs two years in a row, I think the Lakers still hold that title. It's nice to see somebody try to fight back but as of now, the Lakers are still the team to beat."

So you are the team to beat, but then you're not? You have to admire Beasley's confidence though. And as a player, why shouldn't you think your team will be good? It's not very fun to go into a season admitting you're going to stink. But even despite egos and confidence, most people still have some sense of reality, something Beasley evidently does not.
But on one hand, you have the Timberwolves writing open letters admitting they aren't going to be winning anything important any time soon, then on the other, a player is saying they're the best team out there. One of those left hand doesn't know what the right is doing sort of things, huh?
Say it again with me just for fun - Minnesota Timberwolves: the team to beat in 2010-11.