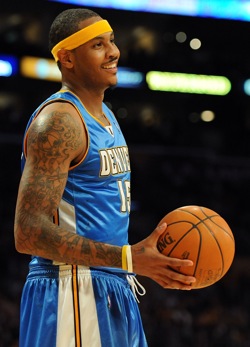 Posted by Royce Young
With the
Carmelo Anthony
situation, any news is new news, even if it's somewhat old news. If that makes sense.
Ken Berger reported last week that Melo still wanted out,
no deal appeared to be coming and even clued us in as to what teams might be players in this rapidly-turning-into-ridiculous situation.
While trade offers have likely been part of internal discussions about Melo weeks ago, now
Sam Amick of FanHouse reports
the
Nuggets
are fielding actual offers for Anthony. "Send it in," Amick reports league executives are saying.
ESPN's Marc Stein and Ric Bucher also report
Denver has softened on its trade stance and is willing to hear offers.
What are the Nuggets looking for? Young assets and talent, Amick says.
Denver is after top-tier young players, future first-round picks, young assets and options to save on salary cap savings. You know what deal fits into that realm? The one Ken Berger mentioned being discussed last week involving
Andre Iguodala
and
Derrick Favors
.
Other teams that fit the criteria Amick listed and have been linked to the Carmelo Sweepstakes? The
Clippers
, the
Nets
, the
Bulls
and the
Timberwolves
(hey, they have the assets). The
Knicks
have some of it, but are lacking in draft picks. The
Rockets
have the assets but not the top tier young player. The
Magic
are in the same boat.
The Nuggets see the writing on the wall.
Chauncey Billups
is older and in a contract year.
Kenyon Martin
the same.
J.R. Smith
is reportedly being shopped. The Denver Nuggets as we know them will be gone soon, and it's looking like it will start by blowing up the top. So Denver's taking the approach to accept the situation and instead of trying to remain at the top with an equal parts trade, the Nuggets are willing to take back picks, assets and young talent. In other words, they're prepared to rebuild.
This means progress for a trade. And with training coming in, oh, a week, it looks like Masai Ujiri is trying to get serious about trading his star. So if you've got a deal, give the Nuggets a call. Serious offers only, please.