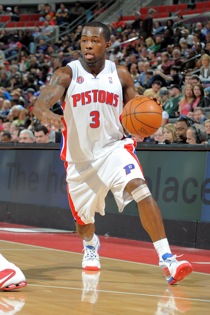 Posted by Royce Young
Ah, mid-September. It's the wonderful time where not only are fanbases hopelessly optimistic, but even the players get a little sense of unbridled bias that leads to a lapse in reality.
Take
Michael Beasley
for example,
who mentioned that the Wolves are the team to beat last week.
Or
Rodney Stuckey
,
who told Dime Magazine in an interview
that "On paper, we are the best team in the league."

As Kurt Helin of Pro Basketball Talk wisely put it,
"What paper? Rolling?"
Now again, this isn't something new. Brash players tend to talk... brashly in September. And why not? You're already in first place, your front office (supposedly, theoretically) made you better and if you just play like you're supposed to, everything will be alright.
But it doesn't make it any less fun to point out these comments from players. The
Pistons
should be better. Last year was tough but "on paper," they improved. Who knows, in the East, anybody could realistically be a low-seed playoff team. Especially on paper.
Still, do names like Stuckey,
Charlie Villanueva
,
Ben Gordon
,
Tracy McGrady
and
Ben Wallace
really
look that good on paper? As good as
Chris Bosh
,
LeBron James
,
Dwyane Wade
and whoever else is on that one team? Or even as good as
Paul Pierce
,
Ray Allen
,
Kevin Garnett
and
Rajon Rondo
? Or as good as
Kobe Bryant
,
Pau Gasol
,
Ron Artest
and
Andrew Bynum
? I think I've made my point here.
It's a curious thing as to why players make bold statements like these. Is it to try and fire up fanbases? Is it to try and develop and us versus the world mentality when everyone tells you you're crazy? Is it just a confidence thing? Or could they possibily, actually believe it?
Whatever the answer is on that, the lesson here is, professional athletes don't always speak with the head, but more often with the heart. And really, there's nothing wrong with that.