Posted by Royce Young
Time to give the hardwood a good waxing and to put some air in the roundball. Training camp is seriously just days away. Ken Berger has already kicked the priming off looking at Boston and San Antonio's training camp issues . And so let's start over here with a team with a disgruntled star that had people talking about where he could go before Carmelo Anthony took over - the New Orleans Hornets.


New Orleans Hornets
Training camp site:
New Orleans, LA
Training camp starts:
Sept. 28
Key additions:
Trevor Ariza
(trade),
Marco Belinelli
(trade),
Craig Brackins
(draft),
Quincy Pondexter
(draft),
Mustafa Shakur
(free agent)
Key subtractions:
Darren Collison
(trade),
James Posey
(trade)
Likely starting lineup:
Chris Paul
, PG;
Marcus Thornton
, SG; Trevor Ariza, SF;
David West
, PF;
Emeka Okafor
, C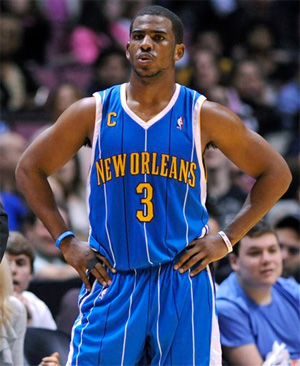 Player to watch:
Chris Paul. Coming off an injury that caused him to miss the last 37 games of the season, some wonder if Paul will be the same player. Add in the turbulent offseason with rumors about his New Orleans future and all eyes are on CP3 as he heads to camp. Marcus Thornton is maybe the most intriguing player on the roster because of his potential to break out as a big time scorer, but the Hornets are Chris Paul's team and therefore, he's the one to be watching.
Chemistry check:
Though Chris Paul tried to sooth some of the chemistry questions kicked up by him this summer by reportedly asking out of New Orleans, it's still something that's likely to linger over the team. Since it appears that Paul is kind of running the team with Dell Demps catering to Paul's wishes and desires, how does that make the rest of the squad feel?
Obviously CP3 is the leader. Obviously, he's the star. But how does all of that fit in with the rest of the group? Plus, Paul has a new running buddy in Trevor Ariza, a player that shoots first and asks questions later. How does Paul integrate his game with Ariza's trigger happy approach? Luckily for the Hornets, Monty Williams is a good man to have in charge of these issues and someone that can likely solve any kind of chemistry uptick.
Camp battles:
One key area is up for discussion going into camp for the Hornets: Who's Chris Paul's new backup point guard? After trading Darren Collison as part of the Ariza deal, the Hornets signed D-Leaguer Mustafa Shakur in the offseason and have recently inked
D.J. Strawberry
to come to camp and compete for the job. It's the type of position battle that's not overly important because if all goes well, whoever wins the job will only get 8-10 minutes a night. But if something goes wrong like it did last season, it could become a very important spot for the Hornets.
At shooting guard, Marcus Thornton is almost assured of having the starting job, but Marco Belinelli could potentially push him a bit.
Long shots:
Strawberry isn't necessarily a long shot, but the job is Shakur's to lose. The Hornets also are bringing in D-League journeyman Daryl Watkins who has spent time with the
Kings
,
Spurs
and
Clippers
. He's a big guy that has somewhat of a chance because of the thin Hornet front line, but it's not likely he makes the team.
Biggest strength:
The starting five. Not to pull a
Rodney Stuckey
here, but on paper, NOLA has a pretty nice first first. Paul, Thornton, Ariza, David West and Emeka Okafor. That five should be able to match up with most, assuming Thornton continues his rise as a prolific scorer. West is a former All-Star, Okafor should have a full run with Paul and is a quality rim-protector and Ariza can score and is a capable lockdown defender.
Glaring weakness:
Depth. As is the case with a lot of teams with good front line talent, there's just not much waiting in reserve. The Hornets traded James Posey and Collison to get Ariza, which definitely hurt their depth. Add in the fact that they might have a D-Leaguer backing up CP3, Darius Songaila spelling West and
Aaron Gray
as their backup center, and you've got a team with issues on the bench. If rookies Quincy Pondexter and Craig Brackins can step up, those issues can be resolved but as of right now, it's a major question.