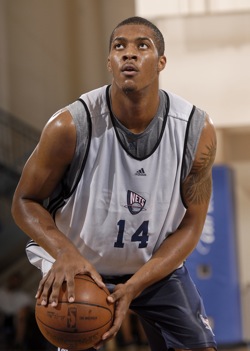 Posted by Royce Young
Ken Berger of CBSSports .com reported last week that the Nets were separating themselves as potential frontrunners for Carmelo Anthony, quoting a source that said New Jersey is "working hardest to get a deal done."
And here's some more fuel to toss on that fire.
Chad Ford of ESPN added today that of all the teams in serious contention for Anthony's services (Knicks , Bulls, Rockets, Clippers and Warriors), the Nets have the best offer.
"They've got what the Nuggets want," one general manager told ESPN.com. "We're trying to put a package together that matches what the Nets can offer, but it's tough."
The reports coming out earlier today revealed that the Nuggets are indeed hearing out offers and are most interested in picks, cap relief and a top young talent. What is New Jersey reportedly offering? All three.
Ford said the Nets are willing to offer No. 3 overall pick Derrick Favors, the expiring deals of Troy Murphy and Kris Humphries plus at least one future first-round pick for Carmelo. Ken Berger mentioned Favors as potential bait in his report as well, but adding Murphy and Humphries plus a pick or two certainly sweetens the pot.
However, a source close to the Nets told ESPN.com that the Nets weren't necessarily the frontrunners for Anthony, nor were they willing to confirm what the Nets would offer. However, it was said that New Jersey was in serious contention based on Denver's reluctance to trade Anthony to a Western Conference team and the Nets' combination of expiring contracts, draft picks and a young player with talent and upside.
All of this begs the question though: Is New Jersey actually the one getting worked in this deal? Obviously, nobody knows about what Favors will be. Murphy is a quality power forward, Humphries is a throw-in and the picks are nice. While the Nets gets the prize of Carmelo, doesn't this upset the once balanced roster they had?
The Nets are trading every power forward on the roster. No seriously, they won't have a single guy that plays the 4 on the role sheet. Plus, New Jersey signed Travis Outlaw over the summer and now, he's immediately pushed to the bench. New Jersey's roster immediately becomes a mess with Anthony's addition and while they have a star, they don't have any kind of coherent symmetry remaining.
I'm not saying Denver wins this trade by any means because again, Favors may or may not be good, Murphy isn't anything more than solid and Humphries plus picks are just add-ons . And the Nuggets are still losing their star. But if New Jersey goes down this road to get Anthony, it'll require another roster restructuring. Which is something they were pretty much close to completing already.
But then again, the chances of this being the actual trade is probably pretty unlikely. But it's definitely the one Denver might be happiest with.