Lonely Cav captain left to ponder career by LeBron James nearly calls it quits.
Posted by Matt Moore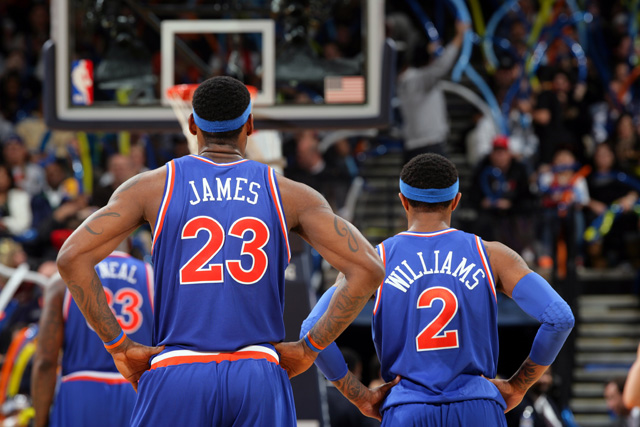 When LeBron James took his talents to Miami, he left a trail of disappointed and devastated people in his wake. Dan Gilbert, the Cavs' organization, Cavalier fans, sporting good store owners in Ohio, the city of Cleveland,
Knicks
fans,
Bulls
fans,
Nets
fans, Clipper fa... you get the picture. But in general, you have to believe most of the Cavs players treated it as NBA players treat these kinds of things. Business. Players come, players go. The checks keep coming, so what't the concern?
For one player, apparently it wasn't just business, and life didn't just go on.
Mo Williams
, James' running mate in Cleveland told Yahoo! Sports Monday that he was so distraught following "The Decision" that he considered retirement. From
Mo Gotti's conversation with Marc Spears
:
"I contemplated it. I really sat down and envisioned life after basketball. …I really saw myself not playing.
"It just didn't make sense to me. …It doesn't make sense to me."
Williams goes on to say that he lost a lot of his love for the game, and it took him a while to be able to get back into the game. He doesn't sound wholly convinced, either. The whole conversation comes across the way someone sounds after a particularly tough breakup, the kind where you don't know what happened and he/she just moved out one day.
Is Williams a sympathetic figure? He certainly took a huge load of the blame for the playoff failures of the
Cavaliers
during his time there. Williams always seemed to be trying to prove a point, that he could score too, instead of being the all-around player most wanted him to be in support of James. This is the gap between a point guard and a Scottie Pippen-type forward. That's the problem. James was the all-around type player as well as the massive scoring force. And Williams also wasn't exactly on target with a lot of those shots. It's much easier to feel sorry for him if he wasn't campaigning to be an All-Star and clanging up a house for the third little pig every May.
But that's contextual based on our knowledge of him. At his root, Mo Williams is a player that felt like he was part of something special in Cleveland, who loved the opportunity to compete at the highest level with what he felt was the greatest player in the game, and someone who now faces a reality where the person that he was trying so hard to support is gone. Vanished in the night, on national television. He's got to continue his career, knowing that windows for players like himself are small and delicate, and the odds are not good that he'll hear his name in the Conference Finals again. The whole NBA world's changed since LeBron James left Cleveland.
And we're still trying to figure out all the career implications and casualties of "The Decision."